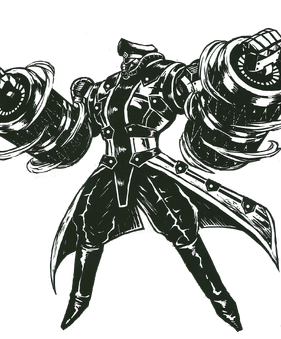 "Herr" Frederick Von Twirlenkiller is a character from the video game MadWorld. Third boss in the game and final boss of the Varrigan City area, Frederick is ranked 98th inside Deathwatch.
In Fiction Wrestling, Frederick competes in and Fiction Wrestling Entertainment as a solo competitor and in Xtreme Cartoon Wrestling as one half of the tag team known as "Twisted Villainy" along with Jude the Dude.
Background
Edit
Series: MadWorld
Species: Cyborg
Height: 7 feet
Weight: 500 lbs.
Billed From: Berlin, Germany
Companies: (Currently) XCW, FWE
Allies: Jude The Dude, Jack Cayman,
Rivals: N/A
Twitter: @ZyclunKiller
FWE
Draft (2014 - Present)
Edit
On the very first Fiction Wrestling Multiverse's Draft, Frederick and Jude (as Twisted Villainy) were drafted to XCW. They were not only XCW's first draft picks, but also the first draft picks over-all that year, and the first-ever draft picks in the history of the draft.
In Wrestling
Edit
Frederick is a strongman, being able to lift over 500 pounds, his own weight, with little to no problems. As such, his moveset is power-based, with plenty shades of brawling. Nonetheless, he is somehow capable of high-flying moves, despite his weight, which he usually tends to break out to catch his opponent off-guard.
Finishers
Edit
Chokeslam — used as a signature move in XCW
Callahan (Spin-out Fireman's Carry Facebuster)
Dead Air (Death Valley driver)
Schlachtof (Big Boot) — used as a signature move in XCW
Signatures
Edit
Giant Swing
East and West (Double Underhook DDT)
Air Cannon (European Uppercut) (XCW)
Master Alarm (Pumphandle Backbreaker)
Crashday (Pumphandle Slam)
Entrance Themes
Edit
"Hurricane" by Kyuss (2014 - Present; XCW, FWE)
Championships and Accomplishments
Edit
Fiction Wrestling Multiverse Draft Edit
First-ever Draftee (with Jude the Dude)
First Draftee (2014; with Jude the Dude)
Fiction Wrestling Entertainment Edit
Most Eliminations (2016 High Noon Rumble; 10)
Frederick was born in the early 1920s in Germany, from a Jewish family.
Being a cyborg, Frederick removes his turbine arms to wrestle, instead putting on a pair of much-more realistic-looking, yet still robotic arms.