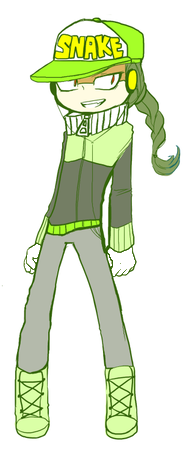 Alexander Valant VII is an Original Character created by Good ol' Gear on fanfiction.net. Alexander, younger brother of Gear Valant and second child of Silvio Valant, is a wrestler, CEO of San Paro Wrestling Alliance and GM of the company's weekly show Saturday Night Vainglory. He currently competes in PCUW under their developmental system and GPW.
Background
Edit
Series: Original Character
Species: Human
Age: 19
Height: 6 feet
Weight: 174 pounds
Companies: (Currently) PCUW, GPW; (Formerly) IWF
Debut: 2014
Status: Active
Allies: The Valant Family, 4WBs.
Rivals: Adam Price, Selena Richardson
Twitter: @SmugSnake
Personality
Edit
If Gear is the straight, precise man of the Valants, then Alexander is his polar opposite. Hot-headed, arrogant as hell and back, call him a degenerate if you want to, but he really knows how to connect with the crowd. Alexander also loves to highlight the obvious and always makes snarky remarks. He may look like a jerk to some, but if he is, he is a jerk with an heart of gold who just loves to point out the damn obvious. Of course, he is a Valant, meaning that using any loopholes he can find isn't above him, that he will kick people out of the spotlight to have it point at him and that he knows the ring like the back of his hand. People tend to understimate him, but by the time they remember he is a Valant, they either tapped out or were pinned.
Personal Life
Edit
Alexander owns a lime green Mazda RX-8 with several black tribal aerographies covering it, red tainted windows, and a custom body kit. He uses the car every once in a while to street race under the alias of "XV", wearing a green snake mask whilst doing so, and he's actually quite popular with street racing fans.
CEO and General Manager of Saturday Night Vainglory (2014 - Present)
Edit
Alexander made his first-ever televised debut on his company's show, Saturday Night Vainglory, on February 1st. The younger Valant proceeded to hype up the crowd about the night's main event and the fate of the SPWA World Championship, and he even scheduled Michael Simeone vs. Harmon Benjamin and Seung Bloodrose vs. Arlon Benjamin the next week.
On February 8th, Alexander appeared in a television-only segment, where he's shown celebrating on a rented yacht, before he realizes that Vainglory is about to start and he's miles away from the Maze Bank Arena. He attempts to start the yacht, but the engine dies on him, leaving him stranded in the middle of the sea for sometime. He eventually appeared in person thirthy minutes after the show began, scheduling a Tag Team Turmoil match for the vacant SPWA Tag Team Championship at Hierarchy featuring the entire division.
Debut, Rivalry with Adam Price (2015 - Present)
Edit
In June 2015, Alexander shared through SPWA's offiicial Facebook page that he had been hired by GPW as a full-time wrestler. Alexander made his debut on GPW's first show, screwing Adam Price out of the Horizon Championship by dragging him out of the ring and ramming him against the barricade.
The next week, Alexander would cut a promo in front of his Mazda RX-8 with "Riders of The Storm" playing in the background, where he proceed to explain his actions by mocking Adam and his girlfriend Serena, ultimately dubbing the duo "Irrelevant and The Slut". Alexander promised that he would push Adam out of "the spotlight he [Alexander] deserved" by the end of this. The two are scheduled to fight in a 8-men Tag Team Match on Blizzard Month 2 Week 1, alongside Jimmy Hopkins, The House of Virus (Alexander's team), Assassin Oney and Hades' Party (Adam's team), before fighting on Blizzard Month 2 Week 4 one-on-one, No Holds Barred.
In Wrestling
Edit
Finishers
Edit
Snake's Bite (Mandible Claw; used as a last resource)
Adriatic Sea Plunge (Rolling Fireman's Carry Slam - Sometimes from the Top Rope)
Poison Rain (Headlock Driver)
Tricolor Eagle (Pop-up Cutter),
Signatures
Edit
Flying Valant (Sprinboard Enzuigiri)
Italian Neckbreaker (Jumping Neckbreaker)
Superkick
Paralyzer (Double Underhook with Body Scissors)
Entrance Themes
Edit
"Nobody" by Skindred (2014 - Present; SPWA, GPW)
Accomplishments
Edit
Ad blocker interference detected!
Wikia is a free-to-use site that makes money from advertising. We have a modified experience for viewers using ad blockers

Wikia is not accessible if you've made further modifications. Remove the custom ad blocker rule(s) and the page will load as expected.