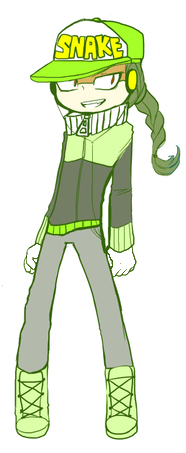 Alexander Valant VII is an Original Character created by writer Good Ol' Gear. Younger brother of Gear Valant and second child of Silvio Valant, he is a wrestler. He currently competes in PCUW under their developmental system and GPW.
Background
Edit
Series: Original Character
Species: Human
Age: 20
Height: 6 feet 1
Weight: 174 pounds
Companies: (Currently) PCUW, GPW
Debut: 2014
Status: Active
Allies: The Valant Family, 4WBs.
Rivals: Adam Price, Selena Richardson
Twitter: @Valant_Se7enthAlexander
Personality
Edit
Personal Life
Edit
Debut, Rivalry with Adam Price (2015 - Present)
Edit
In June 2015, Alexander shared through SPWA's offiicial Facebook page that he had been hired by GPW as a full-time wrestler. Alexander made his debut on GPW's first show, screwing Adam Price out of the Horizon Championship by dragging him out of the ring and ramming him against the barricade.
The next week, Alexander would cut a promo in front of his Mazda RX-8 with "Riders of The Storm" playing in the background, where he proceed to explain his actions by mocking Adam and his girlfriend Serena, ultimately dubbing the duo "Irrelevant and The Slut". Alexander promised that he would push Adam out of "the spotlight he [Alexander] deserved" by the end of this. The two are scheduled to fight in a 8-men Tag Team Match on Blizzard Month 2 Week 1, alongside Jimmy Hopkins, The House of Virus (Alexander's team), Assassin Oney and Hades' Party (Adam's team), before fighting on Blizzard Month 2 Week 4 one-on-one, No Holds Barred.
In Wrestling
Edit
Finishers
Edit
Snake's Bite (Mandible Claw; used as a last resource)
Adriatic Sea Plunge (Rolling Fireman's Carry Slam - Sometimes from the Top Rope)
Poison Rain (Headlock Driver)
Tricolor Eagle (Pop-up Cutter),
Signatures
Edit
Flying Valant (Sprinboard Enzuigiri)
Italian Neckbreaker (Jumping Neckbreaker)
Superkick
Paralyzer (Double Underhook with Body Scissors)
Entrance Themes
Edit
"Nobody" by Skindred (2014 - Present; SPWA, GPW)
Accomplishments
Edit
Ad blocker interference detected!
Wikia is a free-to-use site that makes money from advertising. We have a modified experience for viewers using ad blockers

Wikia is not accessible if you've made further modifications. Remove the custom ad blocker rule(s) and the page will load as expected.