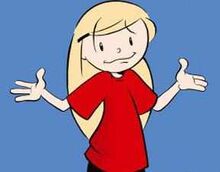 Amelia Louise McBride is the main protagonist of the Amelia Rules! comic book series. A whip-smart, wisecracking tomboy who can be surprisingly sweet and giving. Forced out of New York City following her parents' divorce, Amelia spends most of her time getting into predicaments both silly and serious alongside her friends while also facing the challenges of growing up.
In Fiction Wrestling, Amelia is currently signed to Wrestling Next Door (WND). She is also known for her frequent appearances on FUSION.
Background
Edit
Series: Amelia Rules!
Species: Human
Age: 13
Height:
Weight: 131 lbs.
Companies: (Currently) WND (Formerly) CHIKARA
Debut: WND: Operation W.R.E.S.T.L.E. Episode 2
Status: Active
Billed from: Manhattan, New York, Now residing in Connerton, Pennsylvania
Allies: Charlie Brown
Rivals: Sonya McCallis, Velvet House, Asui Hikaru
Twitter: @AmeliaRules
Wrestling career
Edit
Wrestling Next DoorEdit
Personality
Edit
Amelia is a confident and often sarcastic smart mouth of a girl who can be surprisingly nice to her friends.
Personal Life
Edit
In Wrestling
Edit
Finishers
Edit
Golden Rule (Superkick)
Permanent Record (Bridging arm triangle choke)
Signatures
Edit
Diving or springboard elbow drop - adopted from Charlie Brown
McBride Coaster (Leg lariat)
Meaning of Life (Leaping reverse STO)
Nicknames
Edit
"The (Uncrowned) Queen of FUSION/WND"
Entrance Themes
Edit
"Just Close Your Eyes" by Waterproof Blonde
"Grow Up" by Paramore
Championships & Accomplishments
Edit
FUSION Women's Championship (2 times, current)
Amelia once suffered a concussion during the events of her book series. So far, this has not affected her significantly in the ring.
Ad blocker interference detected!
Wikia is a free-to-use site that makes money from advertising. We have a modified experience for viewers using ad blockers

Wikia is not accessible if you've made further modifications. Remove the custom ad blocker rule(s) and the page will load as expected.