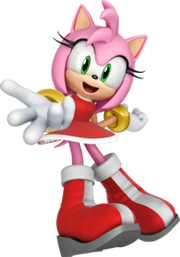 Amy Rose
is a major supporting character from the
Sonic the Hedgehog
franchise. Her defining trait is her long-standing crush on
Sonic the Hedgehog
, which has driven her to win his heart by any means, including and up to fighting robots to impress him. Over the years, she has one of become the most popular females in the
Sonic
franchise, even gaining her own sidekick of sorts in Cream the Rabbit.
In Fiction Wrestling, Amy is currently signed to Universal Character Association (UCA), along with the rest of the Sonic Heroes, and also signed to Women's Wrestling League (WWL) and Character Championship Wrestling (CCW).
Background
Edit
Series: Sonic the Hedgehog
Species: Mobian Hedgehog
Age: 12
Height:
Weight: 127 lbs.
Companies: (Currently) UCA, WWL, CCW, UEPW (Formerly) UWE
Debut: 1995 (UCA)
Status: Active
Billed from: Little Planet
Allies: Sonic the Hedgehog (would-be love, although Sonic tried get away from her), Sonic Heroes, Cream the Rabbit (best friend), most of the UCA Female faces, Annie Frazier, Reggie Rocket
Rivals: Princess Peach, Sally Acorn, The END (Zoe Payne, Lucy van Pelt, Bella Swan)
Twitter: @RosyTheRascal 
Wrestling career
Edit
Universal Character AssociationEdit
Women's Wrestling LeagueEdit
Ultimate Wrestling EntertainmentEdit
Character Championship WrestlingEdit
Personality
Edit
Personal Life
Edit
In Wrestling
Edit
Finishers
Edit
Rose DDT (Flowing Snap DDT)
Signatures
Edit
Piko Piko Combo (STO backbreaker followed by reversed STO) - UCA
Pink Attack (Diving leg lariat) - WWL
Nicknames
Edit
Entrance Themes
Edit
"My Sweet Passion" by Nikki Gregoroff
Championships & Accomplishments
Edit
Universal Character AssociationEdit
Women's Wrestling LeagueEdit
Ad blocker interference detected!
Wikia is a free-to-use site that makes money from advertising. We have a modified experience for viewers using ad blockers

Wikia is not accessible if you've made further modifications. Remove the custom ad blocker rule(s) and the page will load as expected.