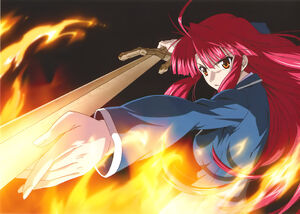 Ayano Kannagi is the main female character of Kaze no Stigma. Ayano is the heir of the Kannagi family of enjutsushi (wielders of fire magic), and wielder of the Kannagi's sacred sword Enraiha. It's her job to explore any spirtiual happenstance and then defeat any evil spirits that may exist. 
Ayano is a member of XFWA, and the reigning submission specialist. She has enough skill and personality to contend for the Diva Championship multiple times in her short career.
Background
Edit
Series - Kaze no Stigma
Species - Human 
Age - 16
Height - N/A
Weight - N/A
Companies - (Currently) XFWA
Debut - N/A
Status - Active
Billed from - Tokyo, Japan
Allies - Kazuma Yamagi, Ren Kannagi
Rivals - Mizore Shirayuki, Cagalli Yula Atha, Alicia Melchiott, Catherine MacDonald
Twitter - @EnraihaFTB18
Wrestling Career
Edit
Personality
Edit
Ayano is arrogant, irrational, and easily riled up. However, don't mistake her lack of emotional control for lack of skill, she is actually very focused and proud of her skill and heritage, even in the face of Kazuma (her second cousin, master of wind magic and a Contractor for the Spirit King of the Wind), and Ren Kannagi (her other second cousin who wields the Golden Flame, one of the most powerful purifying fire magic in existence). Her insistence on being the submission expert of the XFWA is by choice in that regard, wanting to forge her own path a wrestler.
Personal Life
Edit
She firmly denies any kind of rumor that she is dating Kazuma, who has taken over as her manager and also doubles as her bodyguard. 
In Wrestling
Edit
Finishers
Edit
Enraiha DDT (Facebreaker DDT)
Feel the Burn (Dragon Sleeper)
Kouen Lock (Omaplata Crossface)
Signatures
Edit
Arm-Hook Sleeper
Bionic Elbow
Cobra Clutch Slam
Kannagi Special (Bite of the Dragon)
Monkey Flip
Sliding Forearm Smash
Nicknames
Edit
"The Kannagi Heir"
"Hotter than Hot"
"The Walking Firestorm"
Entrance Themes
Edit
"Burn, Burn" by Lostprophets
Ayano has a reputation for damaging her clothes. She actually suffered a wardrobe malfunction during a Detroit Street Fight against Excellen Browning at an XFWA Pay-Per-View, Highway to Hell, in 2011.
Ad blocker interference detected!
Wikia is a free-to-use site that makes money from advertising. We have a modified experience for viewers using ad blockers

Wikia is not accessible if you've made further modifications. Remove the custom ad blocker rule(s) and the page will load as expected.