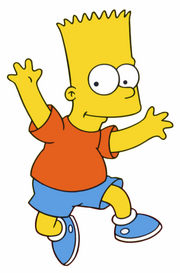 Bartholemew JoJo "Bart" Simpson is a main character in the Simpsons animated series. He is the rebellious, mischievous and sometimes misunderstood oldest child of Homer and Marge Simpson. Most of his time is spent playing pranks, causing trouble or otherwise getting involved in crazy adventures in his hometown of Springfield. He is often regarded as one of the most popular characters on the show.
In Fiction Wrestling, Bart is currently signed to several different companies. He is one of Fiction Wrestling's most successful wrestlers.
Background
Edit
,Series: The Simpsons
Species: Human
Age: (In series) 8 (In FWM) 14
Height: (In series) 4" (In FWM) 5'9
Weight: (In series) 85 lbs. (In FWM) 136 lbs.
Companies: (Currently) CWF, WWT, WWE: Animated, CWA (Formerly) UWE
Debut: 1990
Status: Active
Billed from: Springfield, USA
Allies: Homer Simpson (Dad), Lisa Simpson (Sister - occasional ally), Chris Griffin, Milhouse van Houten (best friend), Dennis the Menace (US), Dennis the Menace (UK), TJ Dettweiller
Rivals: Sokka, Stewie Griffin, Lisa Simpson (course), Nelson Muntz, Eric Cartman, Bloo, T-N-T (Truman X, El Tigre)
Twitter: @TheBartman
Wrestling career
Edit
Personality
Edit
Personal life
Edit
In Wrestling
Edit
Finishers
Edit
Signatures
Edit
Dennis the Menace
Sideshow Bob
Nicknames
Edit
The Bartman
El Barto
The Springfield Rebel
Entrance themes
Edit
"Deep, Deep Trouble" by Bart Simpson (Animated)
"Do the Bartman" by Bart Simpson (CWF)
"Cult of Personality" by Living Colour (CWA)
Championships and Accomplishments
Edit
Toon World Championship (1 time, shortest reign)
Toon Intercontinental Championship (2 times)
Toon Tag Team Championship (1 time, w/Dennis the Menace)
Triple Crown Winner
UWE Omega Championship (2-Times)
UWE Galaxy Championship (5-Times)
UWE X-Treme Championship (2-Times)
UWE Duos Championship (2-Times with Homer Simpson)
Ad blocker interference detected!
Wikia is a free-to-use site that makes money from advertising. We have a modified experience for viewers using ad blockers

Wikia is not accessible if you've made further modifications. Remove the custom ad blocker rule(s) and the page will load as expected.