The Battle of Gettysburg was a military engagement during the Second Throne War. It was the climax of the Third Ember Empire Invasion of FWM, also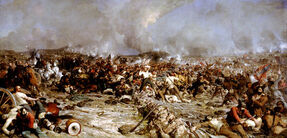 known as the Gettysburg Campaign. The battle occurred on July 1st, 2nd & 3rd, 2017 and resulted in not only the largest battle of the war but also the bloodiest battle in FWM history. The battle marked a turning point in the war and was just only the second decisive victories for FWM forces in the war. The battle was featured in Season 2 of Embers in the episodes "Devil To Pay", "Hold at All Cost", and "The High Water Mark".
Battle Report
Edit
Side:
FWM
Ember Empire
Date:
July 1st-3rd, 2017
Location:
Gettysburg, PA
Leaders
Amelia Bennet

John F Renyolds K

Winfield Scott Hancock W

George Shepard W

Hope

Emperor Stanley Bennet

Averie Whitney W&C

Units:
Army of New Ember

Freed People of Chovoli

Army of The Rappahannock
Strength:
90-100,000 (Total)

10,000 (Colonial Marines)

75,000 (Total
Casualties:
23,000 (Estimated)

3,000 killed
14,500 wounded
5,000 captured

23-9,000 (Estimated)

3,500 killed
15,000 wounded
Thousands captured

Result:

Army of New Ember Victory
Ember Empire's Invasion Fails
Highest Casualties Of Any Single Battle In The War
Prelude To Battle
Edit
Day One (July 1st)
Edit
Opening Shots On Herr & McPherson Ridge Edit
1st Corp Arrives/Death Of Reynolds Edit
Arrival Of 11th Corp Edit
Collapse Of New Ember Line Edit
Reforming Lines Edit
Day Two (July 2nd)
Edit
Stanley's Plan Edit
Lull In Fight/Shepard Moves Line Edit
The Peach Orchard Edit
The Wheatfield/Devil's Den Edit
Battle For Little Round Top Edit
Battle For East Cemetery Hill And Culp's Hill Edit
Day Three (July 3rd)
Edit
Culp's Hill Edit
Stanley Orders Whitney Edit
Cannonade On Cemetery Ridge Edit
Whitney's Charge Edit
Cavalry Skirmishes Edit
Aftermath
Edit
Ad blocker interference detected!
Wikia is a free-to-use site that makes money from advertising. We have a modified experience for viewers using ad blockers

Wikia is not accessible if you've made further modifications. Remove the custom ad blocker rule(s) and the page will load as expected.