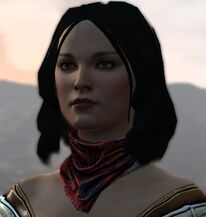 Bethany Hawke is a character in the video game Dragon Age II. She is Garrett's younger sister who only dies instead of Carver in the game if Hawke is a mage. An apostate mage, she received her magical training from her father, who was also an apostate.
In the Fiction Wrestling Multiverse (FWM), Bethany is a professional wrestler signed to Impact Wrestling's Animation Action division along with her siblings.
Background
Edit
Series: Dragon Age
Species: Human
Age: 25
Height:
Weight:
Companies: (Currently) TNA: Animation Action
Debut: 2011
Status: Active
Billed from: Hightown, Kirkwall (originally from Lothering, Ferelden)
Allies: Garrett Hawke (brother), Marian Hawke (sister), Vergil (boyfriend), Anders, Merrill, Zevran Arainai, Jaden Yuki, Syrus Truesdale, Cynthia, Kitty Katswell
Rivals: Carver Hawke (brother), Fenris, Giovanni, Morrigan, Minerva Mink, Sabrina
Twitter: @YoungHawke
Professional Wrestling Career
Edit
TNA: Animation Action Edit
Bethany and her siblings debuted in Animation Action on March 2011. Even before their game was around, their father Malcolm Hawke was wrestling in there since 2007 when Animation Action came into existance. But in 2010, Malcolm was fired from the company after a Loser Leaves Town Match and shortly after was killed. When the Hawkes debuted, they decided that they would keep their father's legacy alive. Bethany was Animation Knockouts Tag Team Champions with her sister Marian before the titles were retired.
Personality
Edit
Bethany's personality is different from her twin brother Carver. She was closer and had a better relationship with Garrett and Marian. She has an understanding personality and is most of the time sweet to others.
Personal Life
Edit
Bethany is the youngest Hawke along with her twin brother Carver. She is currently in a relationship with Vergil of Devil May Cry fame.
In Wrestling
Edit
Like her siblings, Bethany is an all-rounder. She likes trying different things inside the ring.
Finishing moves
Edit
Apostate Kick (Reverse Roundhouse Kick)
Force Edge (Inverted Overdrive) – adopted from Vergil
Flying Hawke (Diving Corkscrew Splash) – Hawke family finisher
Kiss of Death (Kisses her opponent on the lips, then hits them with the Apostate Kick)
Signature moves
Edit
Broken Circle (Double Underhook Backbreaker)
Judgement Cut DDT (Hammerlock Legsweep DDT) – adopted from Vergil
Mage's Eye (Jumping Knee Strike)
Magic Arrow (Sitout Suplex Slam)
Tilt-a-whirl Headscissors Takedown
Managers
Edit
Nicknames
Edit
Entrance themes
Edit
"Awake and Alive" by Skillet (2011 – present)
Championships and Accomplishments
Edit
TNA: Animation Action Edit
TNA Animation Knockouts Tag Team Championship (1 time) - with Marian Hawke