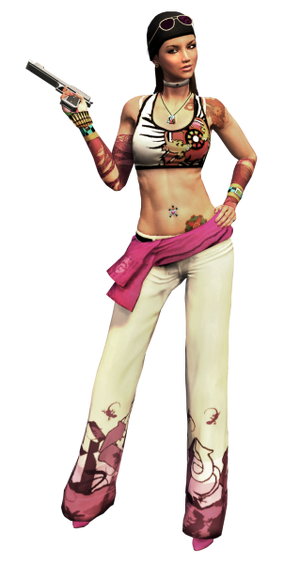 Bonita Benjamin
is a contact in the video game
APB: Reloaded
who will give players missions to complete. She is a Tier 3 contact and considered second-in-command of the the G-Kings, answering directly to the Kings' leader and her father,
Arlon Benjamin
.
In Fiction Wrestling, Bonita is currently working for NCW and SPWA (under their developmental programs) as of 2015.
Background
Edit
Series: APB: Reloaded
Species: Human
Age: 21
Height: N/A
Weight: 123 pounds
Companies: (Currently) NCW (XW), SPWA (BWF)
Debut: 2014
Status: Active
Billed from: Havayland, San Paro
Allies: Arlon Benjamin (Father), Harmon Benjamin (Brother), Hiccup Haddock
Rivals: The BloodRoses, Jessica Wilson
Twitter: @DoubleB
XW; Debut (2014) Edit
Bonita made her official NCW debut in the 05/01/15 House Show in Philadelphia, where she lost against Jessica Wilson in the NCW Spirit Championship tourney match after putting on a great effort.
BWF; Debut (2014) Edit
Bonita is currently not scheduled to make her debut anytime soon in BWF.
In Wrestling
Edit
Finishers
Edit
Double B Spinebuster (Spinning Spinebuster) – NCW
Market Crash (Impaler DDT) – NCW
Pay Day (Hangman's Neckbreaker) – NCW
Signatures
Edit
San Paro Bomb (Fireman's Carry Neckbreaker Slam) – NCW
Spear – NCW
Arm-Trap Crossface – NCW
"Counting The Hours" by Digital Summer
Accomplishments
Edit
N/A
Ad blocker interference detected!
Wikia is a free-to-use site that makes money from advertising. We have a modified experience for viewers using ad blockers

Wikia is not accessible if you've made further modifications. Remove the custom ad blocker rule(s) and the page will load as expected.