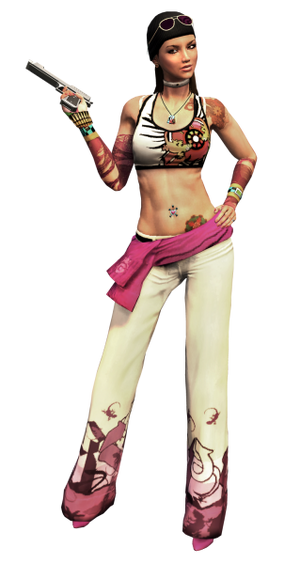 Bonita Benjamin
is a contact in the video game
APB: Reloaded
who will give players missions to complete. She is a Tier 3 contact and considered second-in-command of the the G-Kings, answering directly to the Kings' leader and her father,
Arlon Benjamin
.
In Fiction Wrestling, Bonita is currently working for NCW (under its' developmental brand, XW) as of 2017.
Background
Edit
Series: APB: Reloaded
Species: Human
Age: 21
Height: N/A
Weight: 123 pounds
Companies: (Currently) NCW (XW)
Debut: 2014
Status: Active
Billed from: Havayland, San Paro
Allies: Arlon Benjamin (father), Harmon Benjamin (brother), Hiccup Haddock
Rivals:
Twitter: @GKings_DoubleB
XW; Debut (2014) Edit
Bonita made her official NCW debut at an house show held in Philadelphia, Pennsilvanya, on January 5th, 2015 where she lost against Jessica Wilson in a First Round Match in the tournament for the NCW Spirit Championship.
In Wrestling
Edit
Finishers
Edit
Market Crash (Impaler DDT)
Pay Day (Hangman's Neckbreaker)
Signatures
Edit
"Counting The Hours" by Digital Summer
Accomplishments
Edit