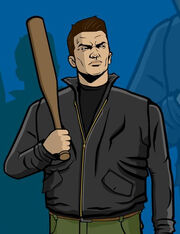 Claude Speed is the main character of the video game, Grand Theft Auto III, and even makes a brief appearance in Grand Theft Auto: San Andreas. For the most part, Claude is a laid back but serious man who appears almost emotionless in every situation unless angered, upon which, he enters a state of almost maniacal rage.
In fiction wrestling, Claude currently competes in Xtreme Cartoon Wrestling (XCW) and Lemon Brook Federation (LBF).
Background
Edit
Series: Grand Theft Auto
Species: Human
birthdate 1971
Height: 6'2"(1.88m)
Weight: 200 (90kg)
Companies: (Currently) XCW, LBF
Debut: 2012 (XCW)
Status: Active
Billed from: Liberty City
Allies: Jessica Wilson (girlfriend), Tommy Vercetti, Casey Lynch, Packie McReary, Senji Kiyomasa, The Mask, Alexander De Large, Conker, Niko Bellic, Carl "CJ" Johnson, Toni Cipriani
Rivals: Arthur Read, Deadpool, The Joker, Rookie Revolution
Twitter: @LibertyCitysLucifer
Wrestling Career
Edit
Personality
Edit
In Grand Theft Auto III, Claude is a calm, serious, and even silent man who appears almost emotionless no matter the situation, only showing the smallest bit of pity for his former girlfriend Maria Latore when he lets her live after saving her from the Colombian Cartel. Claude also takes orders from his bosses without complaint as long as he is compensated and not being wronged, and stays silent when his bosses scold or yell at him.
Claude's compliance with his authorities still stand since joining fiction wrestling. However, upon travelling with the XCW roster, Claude has vanished from the Liberty City crime scene, causing the heat from the law enforcement to die down dramatically. This has helped him begin talking once more, and remain laid back unless provoked, upon which, the destructive side of him is unleashed, and chaos ensues.
Personal Life
Edit
Claude can often be seen hanging out with other characters in the fictionverse, drinking with Tommy, watching the multiverse with The Mask, on a date with his model girlfriend, Jessica Wilson, or on a bizarre adventure with Tommy, The Mask, and company.
In Wrestling
Edit
Claude Speed fights with a brawling and hardcore style of wrestling, influenced primarily by Tommy Dreamer.
Finishers
Edit
Bicycle Kick
The Grand Slam (Flaming Barbed-Wire 2x4 to the face)
Signatures
Edit
Lou Thesz Press (with right hands)
White Russian Leg Sweep
Rear-Naked Choke Hold
Mudhole Stomping
Spear
Nicknames
Edit
Entrance Themes
Edit
"No Mercy" by Pharaoh Monche
Championships and Accomplishments
Edit
XCW World Television Champion (1 time)
Toon WWE Hardcore Champion (1 time)
XCW Hardcore Champion (6 times)