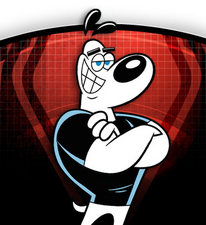 Dudley Puppy is the titular protagonist of the Nicktoon T.U.F.F. Puppy. Although he is still just a puppy, Dudley has the heart of a pack of full-grown dogs. He supposedly has no fear and hates wearing pants. Reared on his mother's strict morals, he was brought up strong, goodhearted, and destined to stop all badness and meanness in its tracks! Now if only he could figure it out how to follow that last rule.
In Fiction Wrestling, Dudley is signed to Impact Wrestling's Animated Division, TNA: Animation Action.
Background
Edit
Series: T.U.F.F. Puppy
Species: Dog
Age: Somewhere in his 20s
Height:
Weight:
Companies: (Currently) TNA: Animation Action
Debut: 2010
Status: Active
Billed from: Petropolis, California
Allies: Kitty Katswell, Garrett Hawke, Marian Hawke, The Warners
Rivals: Verminious Snaptrap, The Chameleon, Carver Hawke, Fenris
Twitter:  @TUFFDudleyPuppy
Wrestling Career
Edit
TNA: Animation ActionEdit
Dudley debuted on Animation Action with Kitty Katswell in 2010. He is a one time Animation Television Champion and a one time Animation Tag Team Champion.
Personality
Edit
Like in the show, Dudley is an incredibly air-headed and jumpy dog. Once inside the ring, Dudley can get pretty serious and focus on fighting. But once that bell rings to end the match, he is back to the air-headed dog we love.
Personal Life
Edit
Dudley still lives with his mom in Petropolis and he and Kitty (along with Keswick on commentary) still work for T.U.F.F.
In Wrestling
Edit
Dudley likes to try anything in the ring. His favorite is being mat-based.
Finishers
Edit
T.U.F.F. Puppy Bomb (Powerbomb)
Dog Eat Dog (Diving Tornado DDT)
Iron Mutt Slam (Pumphandle Slam)
Signatures
Edit
Chew Toy (Biting his opponent on the butt)
Let's Do This! (Diving Splash)
Nice Seeing You (Monkey Flip followed by a DDT)
Nicknames
Edit
"Agent Puppy" (sometimes called that when The Chief is around)
Entrance Themes
Edit
"Ready to Roll" by Jet Black Stare
Championships and Accomplishments
Edit
TNA: Animation ActionEdit
Animation Tag Team Championship (1 time) - with Wakko Warner
Animation Television Championship (1 time)
Ad blocker interference detected!
Wikia is a free-to-use site that makes money from advertising. We have a modified experience for viewers using ad blockers

Wikia is not accessible if you've made further modifications. Remove the custom ad blocker rule(s) and the page will load as expected.