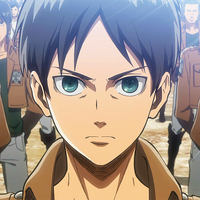 Eren Yeager (often romanized as "Eren Jäger/Eren Jaeger") is the main protagonist of the manga/anime series Attack on Titan. Eren is the son of the late Grisha and Kalura Yeager. He was born in the Shiganshina District, a town located on the southern part of the outermost Wall, which was destroyed by Titans during the fall of Wall Maria. His best friends are his childhood companion, Armin Arlert, and his foster sister, Mikasa Ackerman.
In the Fiction Wrestling Multiverse (FWM), Jaeger is a professional wrestler currently signed to Anime Wrestling Federation (AWF) on the Battleline brand, Cartoon Anime Society Z (CASZ), Ultimate Wrestling Entertainment (UWE), and Apex Caliber Wrestling (ACW) in their developmental territory, APEX Underground.
Background
Edit
Professional Wrestling Career
Edit
Anime Wrestling Federation Edit
Japan Animation Wrestling Edit
Full Throttle Wrestling Edit
Cartoon Anime Society Z Edit
Ultimate Wrestling Entertainment Edit
Apex Caliber Wrestling Edit
APEX Underground (2013–present) Edit
Eren Jaeger made his unannounced debut on Allegiance to the Ring to answer Rin Okumura's open challenge after Nero marked his appearance first and faced the two in a Triple Threat match, which Jaeger won after nailing an Attack on Titan onto Okumura. Both exchanged signs of respect along with Nero as Jaeger was left behind to celebrate his victory. The following week, Jaeger would interrupt Bennet Curse's title retention celebration as he inserted himself as the new number one contender for his AIW Championship. David Williams arrived afterwards as he disagreed and believed he deserved a rematch, prompting AIW General Manager Joshua Garza to declare a match between him and Jaeger to decide who will be the next challenger for Curse's AIW Title belt on the August 8, 2013 edition in the main event.
Personality
Edit
Personal Life
Edit
In Wrestling
Edit
Finishing moves
Edit
Attack on Titan (AIW) / Rogue Titan Stomp (UWE) (Diving Double Foot Stomp / Delayed Vertical Suplex Powerslam (FTW))
Shiganshina DDT (Lifting Single Underhook DDT) – parodied from Rin Okumura; used rarely
Titan Killer (Calf Slicer)
Titan Theory (Waist-lock backward roll transitioned into a bridging or a release German Suplex)
Wall Rose (Elevated Boston Crab)
Signature moves
Edit
3DMB – 3D Maneuver Blade (Sling Blade)
Brainbuster, sometimes onto the ring apron
Colossal Shifter (Rope-hung Boston Crab)
Discus Clothesline
Diving Double Foot Stomp to the back of the head of a bent over opponent and sometimes to a tree of woe hung opponent
Frankensteiner, sometimes inverted or preceded by a kip-up
Jaeger Bomb (Fireman's Carry Double Knee Gutbuster)
Leaping Knee Drop
Multiple kick variations

Calf
Enzuigiri to an opponent sitting in the top turnbuckle
Football to the chest of a standing opponent, from the ring apron
Leg Lariat
Overhead
Roundhouse
Running Front Drop, knocking the opponent into the turnbuckles
Spinning Back
Step-up Enzuigiri

Reverse Shiganshina DDT (Lifting Inverted DDT)
Running High-angle Sitout Powerbomb
Shingata Jaeger Bomb (Overhead Gutwrench Backbreaker Rack dropped into a Double Knee Gutbuster)
Snap Suplex followed by a Gutwrench Suplex followed by an Exploder Suplex
Springboard Forearm Smash
Spinning Backfist
Step-up High Knee to a cornered opponent
Suicide Somersault Senton
Tornado DDT onto the ring ropes
Triple Rolling German Suplex combination
Nicknames
Edit
"(The) Suicidal Bastard"
"(The) Rogue Titan"
Entrance themes
Edit
"Gimme Death Race" by CombiChrist (FTW)
"Guren no Yumiya" by Linked Horizon (AWF)
"This War Is Ours (The Guillotine II)" by Escape the Fate (UWE)
"Catch Your Breath" by CFO$ (AU; July 25, 2013 – present / UWE; used as "The Rogue Titan" for live specials and pay-per-views)
"Catch Your Breath (Remix)" by CFO$ (AU; August 8, 2013 – present / UWE; used under the "Jaeger Bomb" gimmick)
Championships and Accomplishments
Edit
Japan Animation Wrestling Edit
JAW Championship (1 time)
Cartoon Anime Society Z Edit
Fiction Wrestling Awards Edit
Hardcore Wrestler of the Year (2015)
Full Throttle Wrestling Edit
FTW Hardcore Championship (1 time, final)
UWE X-Treme Championship (1 time)