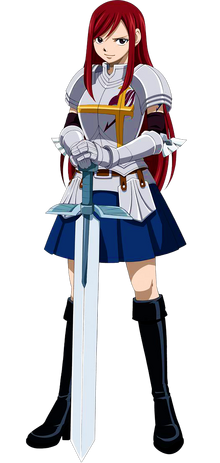 Erza Scarlet is a major character from the manga and anime series Fairy Tail. She is an S-Class Mage of Fairy Tail who is famous for her usage of Requip Magic. She is also a member of Team Natsu, as well as one of the main female protagonists of the series.
Background
Edit
Series: Fairy Tail
Species: Human
Age:
Height:
Weight:
Companies: (Currently) CEW
Debut:
Status: Active
Billed from:
Allies:
Rivals:
Twitter:
Wrestling Career
Edit
Personality
Edit
Erza is a very strict person, often criticizing the bad behavior and habits of the other guild members, causing most of them to apologize, fearing that they might invoke her wrath. She is also very impatient, disliking people who don't answer her questions quickly enough. This, coupled with her own tragic childhood, caused many of her guildmates to avoid her due to her social awkwardness. However, she has a great sense of justice and pride in being a member of Fairy Tail.
Personal Life
Edit
In Wrestling
Edit
Ad blocker interference detected!
Wikia is a free-to-use site that makes money from advertising. We have a modified experience for viewers using ad blockers

Wikia is not accessible if you've made further modifications. Remove the custom ad blocker rule(s) and the page will load as expected.