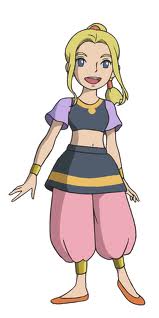 Esther is a character from the video game series Ni No Kuni. A daughter of a great sage, Esther has the ability to tame familiars (animals) and use magic with a harp.
In the FWM she is currently pending to debut in NCW.
Background
Edit
Series: Ni No Kuni
Species: Human
Age: 14 (Game) 15 (FWM)
Height: 5'6
Weight: 99 lbs.
Debut: 2014
Billed From: Al Momoon
Allies: Oliver, Drippy, Myrtle
Rivals:
Twitter: @Sage'sDaughter
Esther signed with NCW, wanting to follow her friend Oliver. She is set to make her debut in XW, NCW's developmental territory real soon.
Personality
Edit
Overall, Esther is very optimistic and faces everything head on. In groups she can always calm the heat between two people.
Wrestling Style
Edit
Esther has a original style, not based on any wrestlers. Although appearing as a perfect fit of a high flyer she actually can be a ferice fighter.
Finishers:Edit
Death Pitch (Spinning or sitout powerbomb)
Leg Burner (Sharpshooter)
Signatues:Edit
Belly-to-back suplex
Cutter
DDT
Dust Storm (Split-legged corkscrew moonsault)
High Pitch Note (springboard heel kick)
Plancha
Managers:Edit
Tag Team:Edit
Soul Mate Express (w/ Myrtle)
Ad blocker interference detected!
Wikia is a free-to-use site that makes money from advertising. We have a modified experience for viewers using ad blockers

Wikia is not accessible if you've made further modifications. Remove the custom ad blocker rule(s) and the page will load as expected.