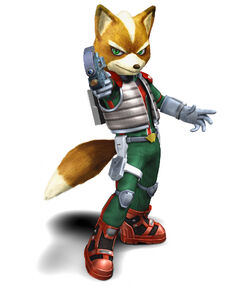 Fox McCloud is the main protagonist of Nintendo's Star Fox game series. He is additionally a pilot, combatant, adventurer, and bellwether of the Star Fox team. Fox is the son of James McCloud, who edified him throughout his childhood to never give up. Fox was a cadet at the Cornerian Defense Army Academy when he heard the news that James had been killed by the twisted genius, Andross, having been betrayed by his own wingman Pigma Dengar. Only James's wingman, Peppy Hare, managed to limp home in his badly damaged starfighter and insisted that the young Fox take on the leadership of the group and form a new team of pilots. Thrust into the leadership role that he wasn't prepared for, Fox recruited the hot-tempered Falco Lombardi and the mechanical genius Slippy Toad to make up the new Star Fox Team.
In Fiction Wrestling, Fox is currently signed to Universal Character Association (UCA).
Background
Edit
Series: Star Fox
Species: Anthropomorphic Red Fox
Age:
Height:
Weight:
Companies: (Currently) UCA
Debut:
Status: Active
Billed from: Lylat System
Allies: Star Fox (Falco Lombardi, Krystal (possible crush), Slippy Toad)
Rivals: Starforce Megaman, Master Chief
Twitter: @StarFoxCaptainClassic
Wrestling Career
Edit
Universal Character AssociationEdit
Personality
Edit
Personal Life
Edit
In Wrestling
Edit
Finishing Moves
Edit
Five Star Fox Splash (High-angle Frog Splash, sometimes while turning position in mid-air)
Killswitch (Double Wristlock transitioned into an Inverted Double Underhook Facebuster)
Signature Moves
Edit
McCloud Special (Discus Elbow Smash)
Springboard Crossbody
Nicknames
Edit
Entrance Themes
Edit
"Just Close Your Eyes" by Bedlam's Gate
"Flatlined" by Modern Echo
Championships and Accomplishments
Edit
Universal Character AssociationEdit
Ad blocker interference detected!
Wikia is a free-to-use site that makes money from advertising. We have a modified experience for viewers using ad blockers

Wikia is not accessible if you've made further modifications. Remove the custom ad blocker rule(s) and the page will load as expected.