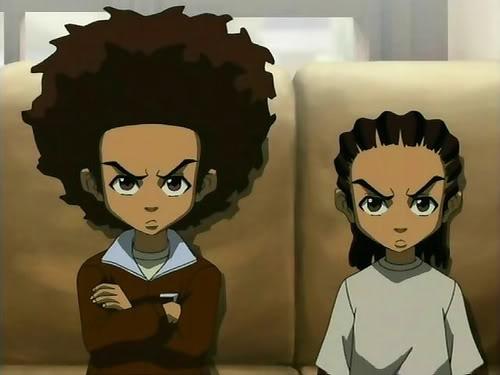 The Freeman Boiz, sometimes simply referred to as the Freemans, are a Fiction Wrestling tag team consisting of Huey and Riley Freeman from the comic strip and animated series The Boondocks. They currently compete in WWE: Animated.
Background
Edit
Formation: 2012
Companies: (Currently) WWE: Animated
Series: The Boondocks (both)
Combined weight: 
Status: Active
Allies: Cindy McPhearson, Black Dynamite, Susie Carmichael
Rivals: The Elrics, The EPA, Bad to the Fur, Yugi Mutou
WWE: AnimatedEdit
In Wrestling
Edit
The Freemans tend to use a strategy coined 'Reckless Predator'; Riley is sent out first to fight as recklessly as possible, then Huey takes over and focuses on whatever part of the opponent Riley may have damaged.
Double team finishers
Edit
Double team signatures
Edit
Huey's Finishers
Edit
Riley's finishers
Edit
Nicknames
Edit
"The Fox & The Hound"
"Mah Dawgs!" (Primarily said by Vegeta)
Entrance themes
Edit
"Judo Flip" by Asheru
"Power" by Jim Johnston
Championships and Accomplishments
Edit
WWE: AnimatedEdit
FanFiction Wrestling AwardsEdit