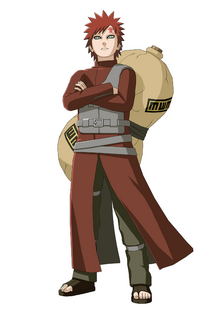 Gaara is a character from the Naruto manga and anime series. He is a shinobi of Sunagakure. Shukaku was sealed into his body on the day he was born, a procedure that resulted in his mother's death. Regarded as a monster by the village and with nobody to love him, Gaara came to despise the world and began relying only on his own strength. This power of self-reliance is later defeated by Naruto Uzumaki's unwavering dedication to his friends. From that point forward, Gaara begins emulating Naruto's method and changes Sunagakure's opinions of him. He eventually becomes the village's Fifth Kazekage, a position he maintains even after Shukaku is removed from his body by Akatsuki.
In Fiction Wrestling, Gaara currently competes in World Wrestling Television (WWT).
Background
Edit
Series: Naruto
Species: Human
Age:
Height:
Weight:
Companies: (Currently) WWT
Debut:
Status: Active
Billed from:
Allies:
Rivals: Bully's Authority, Angry Beavers
Twitter:
Wrestling career
Edit
World Wrestling TelevisionEdit
Personality
Edit
Personal Life
Edit
In Wrestling
Edit
Finishers
Edit
Signatures
Edit
Nicknames
Edit
Entrance Themes
Edit
"Had Enough" by Breaking Benjamin
Championships & Accomplishments
Edit
World Wrestling TelevisionEdit
Ad blocker interference detected!
Wikia is a free-to-use site that makes money from advertising. We have a modified experience for viewers using ad blockers

Wikia is not accessible if you've made further modifications. Remove the custom ad blocker rule(s) and the page will load as expected.