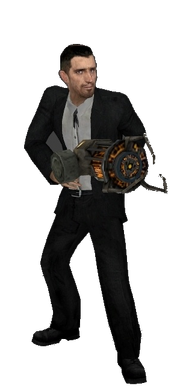 Garry Newman (Often abreviated to Garry) is the creator of Garry's Mod, the insanely popular sandbox game based around Half-Life 2 and Valve's Source engine, and the CEO of the game-making company, Facepunch.
Currently, Garry is competing in SPWA's developmental company, SSCW, as well as NCW.
Background
Edit
Series: Garry's Mod
Species: Human
Height: ?
Weight: 197 pounds.
Companies: (Currently) SSCW, NCW
Debut: August 2013
Status: Active
Billed From: Downtown, USA
Allies: Frank West
Rivals:
Twitter: @GNewman
Personality
Edit
Garry is a rather calm and rational guy, always keeping his cool. We could say he is an average Joe, and yet, he still is more than that. Garry is also incredibly wise, always knowing what to do in any situation, like he was a sort of book. He also has a strong sense of justice, and is incredibly caring for his closest friends. While in the ring he seems to adapt a more "ECW" attitude, never going light on someone, he still has respect for most of his opponents.
Wrestling Career
Edit
Debut, Rivalry with Jason Krueger (2014)
Edit
Garry made his debut in August 2014 during the first episode of SSCW Sandstorm, where he, along with Joseph Nason, Sniper. Sundowner, Knox and Jason Krueger, competed in the main event for the SSCW Red Country Championship.
Even if falling short to win the belt, Garry earned a lot of praise from the crowd, and the week after, he managed to pull off an upset by rolling up Sundowner. However, after the match, the programmer was attacked from behind by Jason Krueger, who, while leaving the ringside area after the assault, yelled that he did "what he had to do."
Debut in XW and chase for NCW Contract (July - August 2014)
Edit
Garry, after being drafted by NCW in the fourth round of the 2014 Draft, made his official debut in XW the 16th July 2014 at Gutcheck III, in a losing effort to Frank West. Garry would clash with the Dead Rising legend once again on 29th August edition of XW, Gutcheck IV, in a NCW Contract Lottery match against West himself, Steam Diesel Black and Soul Eater.
Debut in NCW (October 2014 - Present)
Edit
Garry was officially moved up to the main roster of NCW in September 2014, and had his first televised match teaming with Frank West against Team DEAD at NCW Aftermath. The Newman - West duo, however, ended up losing to Team DEAD.
In Wrestling
Edit
Finishers
Edit
Reset Button (Double Underhook Facebuster)
Control Alt Canc (Full Nelson Slam)
Signatures
Edit
Trouble In Terrorist Town (Jumping Hammerlock twisted into a Lariat)
Diving Headbutt
Entrance Themes
Edit
"No More Mr. Nice Guy" by Alice Cooper (2014 - Present, SSCW, NCW)
Accomplishments
Edit
N/A
Ad blocker interference detected!
Wikia is a free-to-use site that makes money from advertising. We have a modified experience for viewers using ad blockers

Wikia is not accessible if you've made further modifications. Remove the custom ad blocker rule(s) and the page will load as expected.