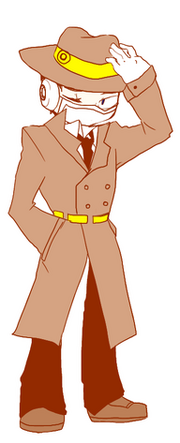 Gear Valant is an Original Character created by writer Good Ol' Gear. Gear is the current CEO of FWE, even if he has wrestled for the company in the past. He also worked with IWF, where he was the World Champion at a point, and FTW, until both folded.
Background
Edit
Series: Original Character
Species: Human
Age: 30
Height: 6 feet 2
Weight: 184 pounds
Companies: (Currently) FWE  (Formerly) IWF, FTW
Debut: 2004
Status: Active
Allies: The Valant Family, Tommy Vercetti, Kenny Dreamer
Rivals: Apulia
Twitter: @RealGear
Personality
Edit
Personal Life
Edit
Debut, Rivalry with Skull Man (2004)
Edit
European Championship Reigns, Various Feuds (2005 - 2007)
Edit
Last Matches, Semi-Retirement, and CEO (2008 - 2009)
Edit
General Manager of Monday Night SPADES (2009 - 2012)
Edit
Rivalry with the Church Of Revengeday, Hiatus (2012)
Edit
Return, Resuming Work as GM of SPADES and later Blitzkrieg (2014 - Present)
Edit
In Wrestling
Edit
Skull Crushing Finale (Full Nelson Facebuster)
Aces High (Belly-to-Back Inverted Mat Slam)
Valant Driver (Double Underhook Piledriver)
Signature
Edit
DDT Abruzzese (Falling Reverse DDT
Italian Neckbreaker (Jumping Neckbreaker)
Hook And Ladder (Chickenwing Facebuster)
Seven of Clubs (Inverted Double Underhook Facebuster)
Menace Of Eviction (Spinning Lifting Inverted DDT)
Valant-plex (Exploder Suplex)
Entrance Themes
Edit
"Waiting" by Not Forgotten (2003 - 2009) (FWE)
"Sling Shot" by GhM Sound Staff (2009 - Present) (FWE)
"Coming Home" by Alter Bridge (2015 - Present) (In Wrestling)
"Decadence" by Disturbed (2004 - 2008/2014) (IWF)
Accomplishments
Edit
1-time IWF World Heavyweight Champion
1-time IWF United States Champion
Ad blocker interference detected!
Wikia is a free-to-use site that makes money from advertising. We have a modified experience for viewers using ad blockers

Wikia is not accessible if you've made further modifications. Remove the custom ad blocker rule(s) and the page will load as expected.