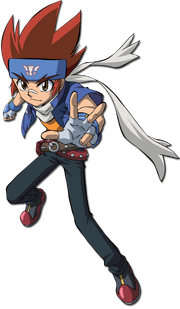 Gingka Hagane is the main protagonist from the Beyblade Metal Saga anime and manga series. He is the "No. 1 Blader in the World" and a Blader of the Four Seasons, representing Autumn. He possesses Storm Pegasus 105RF, which houses the power of the "Pegasus" as his main Beyblade, though he firmly believes that a blader's power comes from the heart. He has also become known for saving the world three times from various threats.
In Fiction Wrestling, Gingka is currently signed to WWE: Animated. He is best known for his actions during the Bully vs. Anime War, during which he became the first anime character to hold the Toon United States Championship. However, his fall from grace since then has led to him taking the nickname of the "Fallen Hero".
Background
Edit
Series: Beyblade Metal Saga
Species: Human
Age: 16
Height:
Weight:
Companies: (Currently) WWE: Animated
Debut: 2012
Status: Active
Billed from: Koma Village
Allies: N/A
Rivals: Souichi Sugano, Wolfgang, The Bullies
Twitter: @FallenHero
Wrestling Career
Edit
World Wrestling Entertainment: AnimatedEdit
Bully WarEdit
Fallen HeroEdit
Personality
Edit
Personal Life
Edit
In Wrestling
Edit
Finishing Moves
Edit
Falling Star Spear (Diving Spear)
Pegasus Spear (Spear)
Signature Moves
Edit
Nicknames
Edit
"The Anime Hero"
"The Hero of Anime"
"The Fallen Hero"
Entrance Themes
Edit
Championships and Accomplishments
Edit
World Wrestling EntertainmentEdit
WWE Toon United States Championship (1 time)
Hagane was the first ever anime character to become Toon U.S. Champion in either WWE or WCW.
Ad blocker interference detected!
Wikia is a free-to-use site that makes money from advertising. We have a modified experience for viewers using ad blockers

Wikia is not accessible if you've made further modifications. Remove the custom ad blocker rule(s) and the page will load as expected.