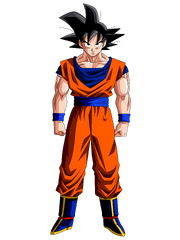 Son Goku, born Kakarot, is the main character of the Dragon Ball anime and manga series. He is a member of an alien race called a Sayian, originally sent to Earth as an infant to destroy it. However, due to an accident, he ends up growing up pure-hearted, and becoming one of Earth's greatest defenders, as well as the informal leader of the Z Fighters. Throughout his life, he trains hard and strives to be the greatest warrior possible, while at the same time using his amazing strength and skills to uphold peace.
In the Fiction Wrestling Multiverse (FWM), Goku is a semi-retired professional wrestler currently signed to X-treme Crossover Federation (XCF). He's known as one of the greatest fictional wrestlers of all time, primarily known for his work in WWE: Animated, where he is considered one of the most famous wrestlers in its history.
Background
Edit
Series: Dragon Ball
Species: Sayian
Age:
Height:
Weight:
Companies: (Currently) XCF (Formerly) WWE: Animated, UCA, UWE
Debut:
Status: Semi-retired
Billed from: 439 East District
Allies: Chi-Chi (wife), Goten (younger son), Krillin (best friend), Z Fighters, Ash Ketchum (student)
Rivals: Vegeta, Yusuke Urameshi, Scorpion (friendly), Taiki Kudo
Twitter: @SonGoku
Wrestling Career
Edit
WWF/E: Animated Edit
Turtle StudentsEdit
Main Event RiseEdit
Feud with the DynastyEdit
Final StorylinesEdit
Semi-retirementEdit
Universal Character Association Edit
Ultimate Wrestling Entertainment Edit
X-Treme Crossover Federation Edit
Personality
Edit
Personal Life
Edit
In Wrestling
Edit
Finishing moves
Edit
Drill Kick (Spinning Dropkick)
Kamehameha Wave (Double Palm Strike) – 1985–1988, used as a signature thereafter
Spirit Bomb (Sitout Powerbomb)
Super Spirit Bomb (Avalanche Sitout Powerbomb)
Signature moves
Edit
Big Boot
Double Axe Handle
Knife Edge Chop
Multiple Leg Drop variations

Diving
Regular
Running, sometimes to an apron-hung opponent

Piledriver
Running Forearm Smash
Running High Knee
Running Powerslam
Scoop Slam
Super Dragon Fist (Diving Fist Drop)
Managers
Edit
Nicknames
Edit
"The Face of the 90s"
"The Saiyan from Earth"
"The Super Saiyan"
Entrance themes
Edit
"Cha-La Head Cha-La" by Hironobu Kageyama (WWE; 1989 – 1998, 2013)
"Rock the Dragon" from Dragon Ball Z (WWE; 1998 – 2013)
Championships and Accomplishments
Edit
WWF Toon Championship (5 times)
WWF Toon Intercontinental Championship (2 times)
WWF Toon World Tag Team Championships (3 times) – with Krillin (1), Vegeta (1), Gohan (1)
Triple Crown Champion
WWE Hall of Fame (Class of 2006)
Ad blocker interference detected!
Wikia is a free-to-use site that makes money from advertising. We have a modified experience for viewers using ad blockers

Wikia is not accessible if you've made further modifications. Remove the custom ad blocker rule(s) and the page will load as expected.