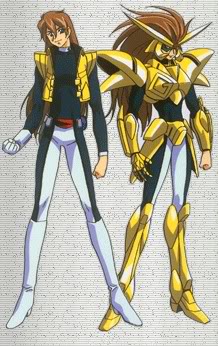 Guy Shishioh is the main character of the anime Yuusha-Oh GaoGaiGar (King of the Braves: GaoGaiGar). He was gifted with a cyborg body when he suffered a near-fatal accident on his first flight into space as an astronaut with technology gleaned from the mechanical lion Galeon, and served as the pilot of the titular mecha GaoGaiGar. In his final battle with the alien Zonder race, a combination of the Zonder metal infecting his cyborg body and the power of purifcation by his friend Mamoru gave him a new body, human-like but stronger in every way. He fights evil with GaoGaiGar and the help of the Gutsy Geoid/Galaxy Guard (GGG).
Guy joined the XFWA in its sixth year and rose to become the first mecha pilot to hold the XFWA Grand Championship, a title he recently won back at Crossmania and holds today.
Background
Edit
Series - Yuusha-Oh GaoGaiGar (King of the Braves: GaoGaiGar)
Species - Evolder
Age - 23
Height - N/A
Weight - N/A
Companies - XFWA
Debut - XFWA Year 6
Status - Active
Billed from - G-Island City, Japan
Allies - Garrod Ran, Masaki Andoh
Rivals - Yusei Fudo, Travis Touchdown, Ryoma Nagare, Bit Cloud
Twitter - @YuushaOhGGG
Wrestling Career
Edit
Personality
Edit
Personal Life
Edit
Wrestling Style
Edit
As befits a Japanese-style wrestler, Guy uses a "puroresu" style, relying on martial art-like attacks, hard strikes, and throws to overpower his opponent, while also throwing in the occasional hold.
Finishing Moves
Edit
Hell And Heaven (Running Double Axe Handle - usually performed in a headlong charge)
Goldion Crusher (Shooting Star Press)
Signature Moves
Broken Magnum 

(Slingshot Wind-Up Punch)

Plasma Hold (Abdominal Stretch)
Forearm Club
Elbow Strike
Rolling Savate Kick
Gutwrench Powerbomb
Nicknames
Edit
"The King of the Braves"
"The One Who Fights With Courage"
Entrances
Edit
"Yuusha Tanjou!" (Grand Glorious Gathering ver.) by Masaaki Endoh
Ad blocker interference detected!
Wikia is a free-to-use site that makes money from advertising. We have a modified experience for viewers using ad blockers

Wikia is not accessible if you've made further modifications. Remove the custom ad blocker rule(s) and the page will load as expected.