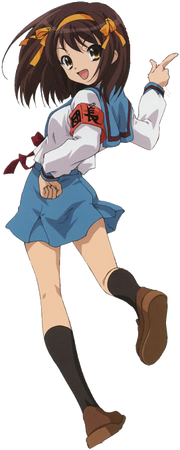 Haruhi Suzumiya is the titular character of the Haruhi Suzumiya light novel, anime and manga series. She is incredibly eccentric and antisocial, with little interest in 'ordinary' things, to the point where she formed the SOS Brigade to search for time travelers, aliens and espers. Unknown to her, she has the power to unconsciously bend and reshape reality, to the point where she can create a completely new world if she ever got bored. Because of this, three members of the Brigade (an alien, a time traveler and an esper, again unknown to her) were sent to watch over her.
In the Fiction Wrestling Multiverse (FWM), Suzumiya is a professional wrestler currently signed to WWE on the Animated brand, Anime Wrestling Federation (AWF) on the Freedom brand, X-Treme Crossover Federation (XCF), and Women's Wrestling League (WWL).
Background
Edit
Series: The Melancholy of Haruhi Suzumiya
Species: Human / (believed to be) Demigoddess
Age: ? (series) 19 (FWM)
Height: 5'2"
Weight: 90 lbs. (series); 110 lbs. (FWM)
Debut: April 2006
Status: Active
Billed from: Tokyo, Japan
Allies: SOS Brigade (Kyon, Itsuki Koizumi, Yuki Nagato, Mikuru Asahina), Justin Stewart (husband), Sarah Ortiz (surrogate sister), Noel Vermillion, Makoto Nanaya, Bonne Jenet, Princess Elise, Asuka Kazama, Serena Carlise, Jack Cayman (mentor), Utena Tenjou, Anthy Himemiya, Lucy van Pelt, Asuna Yuuki, Team Accel Online
Rivals: (Older) Gwen Tennyson, Katara, Samus Aran, Eliza Hart, Kari Kamiya, Konata Izumi, Ramona Flowers, Athena Asamiya (friendly), Lois Griffin, Tsukasa Hiiragi
Twitter: @SOSLeader (AWF/WWE); @MelancholicSuzumiya (WWL)
Wrestling Career
Edit
Anime Wrestling Federation Edit
Cartoon Anime Society Z Edit
Women's Wrestling League Edit
Xtreme Crossover Federation Edit
World Wrestling Entertainment Edit
Animated Debut Edit
Toon Women's Champion Edit
Personality
Edit
Personal Life
Edit
Haruhi is currently married to Justin Stewart of Power Rangers Turbo.
In Wrestling
Edit
Her move-sets in AWF are quite similar to former real-life WWE Diva Michelle McCool
Finishing moves
Edit
Faith Breaker (Belly-to-back Inverted Mat Slam) – adopted from Michelle McCool
MysticDog / SYS – Save Your Soul (Fireman's Carry Bulldog)
Signature moves
Edit
Baseball slide, as a sunset flip counter
Belly-to-belly Suplex
European Uppercut
Figure-four Necklock
Roundhouse Kick, sometimes to a kneeling opponent
Running Corkscrew Neckbreaker
Running Hurricanrana
Russian Legsweep floated over into a pin
Managers
Edit
Nicknames
Edit
Entrance themes
Edit
"Bouken Desho Desho? (It's an Adventure Right Right?)" by Aya Hirano (WWE)
"Not Man Enough for Me" by Jim Johnston (AWF)
Championships and Accomplishments
Edit
AWF Shojo/Women's Championship (2 times)
AWF Women's Tag Team Championship (1 time, inaugural) – with Asuna Yuuki
Cartoon Anime Society Z Edit
CASZ Women's Championship (1 time)
Women's Wrestling League Edit
WWE Toon Women's Championship (1 time, current)
X-Treme Crossover Federation Edit
AWF General Manager Nazirul noted that Haruhi is one of the few people in Fiction Wrestling that could work both as a face and as a heel.