Holo
is the female protagonist of the Light Novel, Manga & Anime
Spice & Wolf
. She is a wolf deit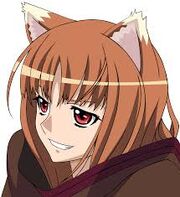 y, originally giving good harvests to villages in mid evil times but was eventually forgotten, later journeying with a merchant named Kraft Lawerence.
In the Fiction Wrestling Mutliverse Holo is a brand new wrestler, looking for companies to buy her time.
Background
Edit
Series: Spice & Wolf (Anime, Manga & Light Novel), Spice & Wolf II (Anime)
Species: Wolf Deity
Age: 600+ (But always appears as a mid adolescent)
Height: 5'6
Weight: 119 lbs.
Companies:
Debut: 2014
Status: Active
Billed From: Yoitsu
Allies: Kraft Lawerence
Rivals:
Twitter: @TheWiseWolf
Wrestling Style
Edit
Holo is a green horn to the buisness, but is much of a eligant high flier. She isn't afriad to put up the fists though. However, she lacks simply experience.
FinishersEdit
Deities Delight (Dragon Kick)
Greetings from the North (Cartwheels into a skateboard to a cornered opponent)
SignaturesEdit
Tail Whip (Pele' Kick)
Various kicks

Big Boot
Bycycle Kick
Dropkick
Mule Kick
Scissors Kick
600 plus just slapped yeah (slap to her opponet, only used in drastic situations)
Stomping the Prey (Standing stomp or a Double foot chest kick from the top rope)
Theme Songs: Edit
"Raised by Wolves" by U2 (2014- present)
Accomplishments
Edit
Ad blocker interference detected!
Wikia is a free-to-use site that makes money from advertising. We have a modified experience for viewers using ad blockers

Wikia is not accessible if you've made further modifications. Remove the custom ad blocker rule(s) and the page will load as expected.