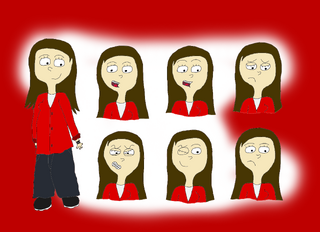 Artwork copyrighted by DanDJohnMLover.
Ivory Gerdelman, also known as Ivory Kazarian (only called that in one company), is a female wrestler in Peach Creek Ultimate Wrestling (PCUW), Total Championship Wrestling (TCW), Global Pride Wrestling (GPW), and under developmental in Northern Carnage Wrestling (NCW).
Background
Edit
Series: N/A
Species: Human
Age: 17
Height: 5'5"
Weight: 145 lbs.
Debut: 2012
Status: Active
Billed From: Kiwi Springs (PCUW), Anaheim, California (TCW)
Allies: Van Culmer (boyfriend), Corey Dominic, Ed, Edd, Eddy, Liam Takashi, Raven Wells, Mandy Wells, Sarah Watkins, Jesse Alvarez, most of the PCUW faces, Shayne Daniels (best friend...somewhat), Tammy Blake
Rivals: Tanya Blake, Makayla Burton, Nazz, The Flawless Girls, Shayne Daniels (on and off), Rookie Revolution
Twitter: @TheIvoryGerdelman
Wrestling Career
Edit
Peach Creek Ultimate WrestlingEdit
Total Championship WrestlingEdit
Global Pride Wrestling Edit
Northern Carnage Wrestling Edit
Personality
Edit
Ivory can be a fun and sweet girl, but she isn't afraid to say what she thinks. If you tick her off, she'll let you know. She also wants to prove that she did not get where she currently is because of her relation, which she gets extremely annoyed by and wants to prove she really did work for it.
Personal Life
Edit
Ivory is the niece of former TNA wrestler and current ROH wrestler Frankie Kazarian. Her moveset and theme are in tribute to him. She has a Yami inside of her, but it only controlled her once and lasted for a minute. She is also the girlfriend of one half of the current PCUW World Tag Team Champions, Van Culmer.
In Wrestling
Edit
Ivory is mostly a daredevil, but can be an all-rounder.
Finishers
Edit
Darkness Approaches (Kneeling Back-to-Belly Piledriver)
Flux Capacitor (Rolling Moonsault Side Slam) – adopted from her uncle
Signatures
Edit
Spinning Neckbreaker
Springboard Leg Drop
Nicknames
Edit
Entrance Themes
Edit
"I Won't Tell You" by Lacuna Coil (PCUW; December to Week 3 of January)
"Kaz" by Dale Oliver (PCUW / TCW)
"Devious" by Dale Oliver (TCW; used while teamed up with Shayne Daniels)
Championships and Accomplishments
Edit
PCUW Women's Champion (1 time, current)
PCUW Mixed Tag Team Champion (1 time, first-ever) - with Van Culmer
GPW Women's Tag Team Champion (1 time) - with Tammy Blake
Ivory has a good talent in singing. She enjoys singing whenever she can in the FWM.
Ad blocker interference detected!
Wikia is a free-to-use site that makes money from advertising. We have a modified experience for viewers using ad blockers

Wikia is not accessible if you've made further modifications. Remove the custom ad blocker rule(s) and the page will load as expected.