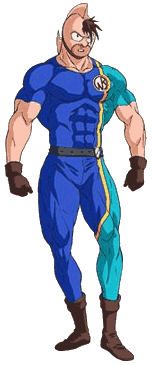 Mantaro Kinniku, known in the English dub and VIZ manga as Kid Muscle, is the main character of Kinnikuman Nisei/Ultimate Muscle. He is the 59th prince of Planet Muscle (Planet Kinniku) and son the first Kinnikuman, Suguru Kinniku and Belinda/Bibinba. Raised during times of peace, he is a spoiled, cowardly, lazy teenager, much like his father was at the beginning of the first series except with more emphasis on cowardice and less on clumsiness. He usually start matches off in a cowardly state, only managing to get a few good moves in due to luck. However, when his friends are in trouble or his opponent is being dishonorable, he manages to reach the state of Kajiba no Kuso Djikara (Burning Inner Strength), better known as Ultimate Muscle in the English dub. When this happens, the Niku-Mark appears on his forehead and his strength, stamina, and technique increase many fold. Because Suguru had his records annulled years ago, Mantaro never knew how great a hero his father really was until he met Meat Alexandria.
In Fiction Wrestling, he is currently signed to WWE: Animated.
Background
Edit
Series: Kinnikuman Nisei/Ultimate Muscle
Species: Chojin
Age: 17
Height: 5'9"
Weight: 186lbs
Companies: (Currently) WWE, GPW (Formerly) NOAH
Debut:
Status: Active
Billed from: Planet Kinniku
Allies: Suguru Kinniku/Kinnikuman (father), Belinda/Bibinba (mother), Meat Alexandria (manager), Terry Kenyon/Terry the Kid (best friend), Muscle League, Han, Touma Kamijou
Rivals: dMp
Twitter: @KidMuscle
Wrestling career
Edit
WWE: Animated Edit
Personality
Edit
Personal Life
Edit
In Wrestling
Edit
Finisher Moves
Edit
Kinniku Buster (Muscle Buster) – in tribute to his father
Kinniku Driver (Back-to-back Double Underhook Piledriver)
Mantaro Bomb (Double Underhook Package Piledriver into a Sitout Pin)
Signature Moves
Edit
Glass Cutter Kick (Backflip kick)
Mantaro Quebrada (Springboard moonsault)
Muscle German (German suplex into the turnbuckle)
Niku Choke Drop (Sleeper suplex)
Stardust Savate (Jumping Rolling Savage Kick)
Stocky Locky (Vertical Muta Lock)
Managers
Edit
Nicknames
Edit
Entrance Themes
Edit
"Muscle Hustle" by Yougo Kouno
Championships & Accomplishments
Edit
WWE: Animated Edit
Ad blocker interference detected!
Wikia is a free-to-use site that makes money from advertising. We have a modified experience for viewers using ad blockers

Wikia is not accessible if you've made further modifications. Remove the custom ad blocker rule(s) and the page will load as expected.