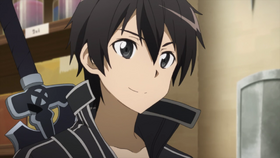 Kirigaya "Kirito" Kazuto is the main protagonist of the light novel and anime series Sword Art Online. He was chosen as one of the 1,000 beta testers for the closed beta of «Sword Art Online», the first ever VRMMORPG for the NerveGear.
In Fiction Wrestling, Kirito currently competes in Cartoon Wrestling Alliance (CWA), Championship Extreme Wrestling (CEW), Anime Wrestling Federation (AWF), where he is the current AWF Japanese Champion.
Background
Edit
Series: Sword Art Online
Species: Human
Age: 14 (Beginning of Aincrad Arc), 16 (End of Aincrad arc, Fairy Dance Arc), 17 (Phantom Bullet Arc, Alicization Arc, Fiction Wrestling)
Height: 172 cm.
Weight: 59 kg.
Companies: (Currently) AWF, CWA, CEW
Debut:
Status: Active
Billed from: Kawagoe City, Saitama, Japan
Allies: Asuna Yuuki (girlfriend; wife [in game]), Arita Haruyuki, SOS Brigade
Rivals: Domon Kasshu, Team HeroKazu, The Elrics, Gon Freecss, Toriko, Negi Springfield, Alucard
Twitter: @TheBlackSwordsman (AWF)
Wrestling Career
Edit
Anime Wrestling Federation Edit
Cartoon Wrestling Alliance Edit
Championship Extreme Wrestling Edit
Personality
Edit
Personal Life
Edit
In Wrestling
Edit
Finishing Moves
Edit
Codebreaker (Double Knee Facebreaker, sometimes while springboarding) – adopted from Chris Jericho
Inverted Bloody Sunday (Lifting Inverted DDT) – adopted from Prince Devitt
The Eclipse (Lifting Single Underhook DDT, sometimes from the top rope)
Walls of Jericho (Elevated Boston Crab) – adopted from Chris Jericho
Elucidator(Jumping Reverse STO)
Bloody Sunday (Lifting DDT) – adopted from Prince Devitt aka Finn Balor
Styles Clash (Belly-to-back inverted mat slam) - adopted from AJ Styles
Deadly Sins (Kneeling Wheebarrow Piledriver)
One-Winged Angel (One-handed electric chair driver) adopted from Kenny Omega
Dark Repulser (Double chickenwing double knee gutbuster)
Signature Moves
Edit
Lionsault (Springboard Moonsault) – adopted from Chris Jericho
Vorpal Strike(720 DDT)(Twisting springboard tornado DDT)
Horizontal Square 4 hit Combo ( Hands & Leg Strikes followed by a Pelé Kick)
Springboard forearm smash
Sling Blade
Suicide somersault senton
Lariat
Diving double foot stomp to the back of the opponent
Rainmaker(Wrist-lock transitioned into a short-arm lariat) adopted from Okada Kazuchika
Phenomenon (Springboard moonsault onto a standing opponent transitioned into an inverted DDT) adopted from AJ Styles
Jumping hangman's neckbreaker
Multiple suplex variations

Snap, sometimes into the turnbuckles[
High-angle belly-to-back
Kirito Suplex Special (German followed by a sitout belly-to-back facebuster)
Vertical lifted and dropped into a neckbreaker slam

Ushigoroshi (Fireman's carry Neckbreaker)
Multiple kick variations

Drop,sometimes from the top rope[346]
Enzuigiri
Pelé Kick (Backflip)
Spin[335]
Super
Nicknames
Edit
Entrance Themes
Edit
"Crank the Walls Down" by Maylene and the Sons of Disaster (used with Arita Haruyuki)
"Last Chance Saloon" by Deviant and Naive Ted (used along with Haruyuki and Asuna)
"Real Rock and Rolla" by Yonosuke Kitamura
Playing With Power by CFO$(used along with Haruyuki with Kuroyukihime and Asuna)
"Styles Clash" by Yonosuke Kitamura
Championships and Accomplishments
Edit
Anime Wrestling FederationEdit
Ad blocker interference detected!
Wikia is a free-to-use site that makes money from advertising. We have a modified experience for viewers using ad blockers

Wikia is not accessible if you've made further modifications. Remove the custom ad blocker rule(s) and the page will load as expected.