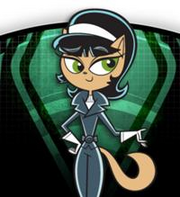 Kitty Katswell is a main character in the NickToon T.U.F.F. Puppy. She is T.U.F.F.'s #1 agent. Kitty is also an expert in combat, weapons, and detective work. She is Dudley's partner, assigned to train him as a T.U.F.F. agent, but often finds herself and her skills foiled by Dudley's antics.
In Fiction Wrestling, Kitty is signed to Impact Wrestling's Animated Division, TNA: Animation Action.
Background
Edit
Series: T.U.F.F. Puppy
Species: Cat
Age: Somewhere in her 20s
Height:
Weight:
Companies: (Currently) TNA: Animation Action
Debut: 2010
Status: Active
Billed from: Petropolis, California
Allies: Dudley Puppy, Marian Hawke, Bethany Hawke, Cynthia
Rivals: Verminious Snaptrap, The Chameleon, Morrigan, Sabrina
Twitter: @REAL_Kitty_Katswell
Wrestling Career
Edit
TNA: Animation ActionEdit
Kitty debuted on Animation Action with Dudley in 2010. She had her first Animation Knockouts Championship reign in July 2013 and held it for four months before losing it to Morrigan at Bound For Glory 2013.
Personality
Edit
Kitty is known to have somewhat of a temper, but she is shown to be nice and kind and is most of the time shown as a tough-talking, no-nonsense girl. She is also said to be trained in the arts of combat, language and firearm use. She does have a few weaknesses; such as her shaky relationship with her mother and sister, her schoolgirl-like love for Eric the water delivery guy which can distract her even in combat.
Personal Life
Edit
Kitty still lives in Petropolis and she, Dudley, and Keswick (on commentary) still work for T.U.F.F.
In Wrestling
Edit
Kitty is like many others in Animation Action, a bit of an all-rounder. However, she doesn't do a lot of high flying, she is a bit scared of heights.
Finishers
Edit
Cat Got Your Tongue (Underhook Piledriver)
Katscratch (Springboard DDT)
Purrfect Ending (Rolling Cutter)
Signatures
Edit
Running Bulldog
Sitout Facebuster
Swinging Neckbreaker
Entrance Themes
Edit
Championships and Accomplishments
Edit
TNA: Animation ActionEdit
Animation Knockouts Championship (1 time)
Ad blocker interference detected!
Wikia is a free-to-use site that makes money from advertising. We have a modified experience for viewers using ad blockers

Wikia is not accessible if you've made further modifications. Remove the custom ad blocker rule(s) and the page will load as expected.