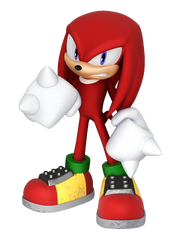 Knuckles the Echidna is a major supporting protagonist in the Sonic the Hedgehog franchise. He is the last guardian of the Master Emerald, a powerful relic which it is his duty to protect from those who would abuse its power. He is often an ally to Sonic, but can be turned or manipulated against him due to his gullibility. His trademarks are his superhuman strength, his spiked knuckles (from which he gets his name) and his ability to glide.
In Fiction Wrestling, Knuckles is most well known as a member of the Sonic Heroes, though he has attained success on his own. He currently competes in Cartoon Wrestling Alliance (CWA) and Universal Character Association (UCA).
Background
Edit
Wrestling career
Edit
Personality
Edit
Personal life
Edit
In wrestling
Edit
Knuckles tends to wrestle a power-based wrestling style, despite his relative lack of size.
Finishers
Edit
Deep Impact (Sitout Powerbomb)
Signatures
Edit
Echidna Headbutt (Diving Headbutt)
Revolver Slam (Back suplex neckbreaker)
Knuckles Sandwich (Diving fist drop) - CWA
Triple Rolling German Suplex
Nicknames
Edit
Entrance themes
Edit
"Whatever" by Our Lady Peace (UCA)
"Sonic Heroes" by Crush 40 (as part of the Sonic Heroes)
Championships and Accomplishments
Edit
WWE: AnimatedEdit
Ad blocker interference detected!
Wikia is a free-to-use site that makes money from advertising. We have a modified experience for viewers using ad blockers

Wikia is not accessible if you've made further modifications. Remove the custom ad blocker rule(s) and the page will load as expected.