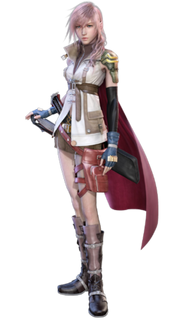 Lightning Farron, real name Claire Farron, is the main protagonist of the video game Final Fantasy XIII. She is a cold, standoffish and independent woman who gets entangled in a plot that endangers her home of Cocoon while trying to save her sister Serah who was made into a l'Ce. In the sequel Final Fantasy XIII-2, Lightning is the narrator and a temporary playable character. She serves as a knight protecting the goddess Etro from her rival, Cassius Ballad. In Lightning Returns: Final Fantasy XIII, she is again the main protagonist, chosen as a saviour by the god Bhunivelze, and tasked with saving the world before it ends in thirteen days.
In the Fiction Wrestling Multiverse (FWM), Farron is a professional wrestler currently signed to Universal Character Association (UCA), where she is the current UCA Women's Champion in her first reign. She is also known for being a leading member of the Rookie Revolution.
Background
Edit
Wrestling Career
Edit
Universal Character Association Edit
Personality
Edit
Personal Life
Edit
Lightning has a younger sister named Serah Farron who currently competes in SPARK Women's Wrestling and Universal Character Association's developmental territory, Animated Universe Wrestling (AUW). She is also occasionally visited by her other friends from her game.
Lightning is also currently the girlfriend of Animated and CAWF wrestler and RR leader Souichi Sugano, and also serves as a Team Mom within the RR by extension due to her senior rank.
In Wrestling
Edit
Finishing moves
Edit
Lightning Lock Ω (Over rotated STS)
Lightning Strike (Kneeling Back-to-belly Piledriver)
Zantetsuken (Rolling Moonsault Side Slam) - used rarely
Signature moves
Edit
Lightning Flash (Slingshot DDT)
Valhalla Strike (Running Single Leg Dropkick)
Nicknames
Edit
Entrance themes
Edit
"Playing the Saint" by Digital Summer (UCA; 2012 – present)
Championships and Accomplishments
Edit
Fiction Wrestling Awards Edit
Technician of the Year (2014)
Women's Champion of the Year (2014)
Lightning hates singing despite having a beautiful singing voice (due to her being voiced by Japanese Singer Maaya Sakamoto)
Ad blocker interference detected!
Wikia is a free-to-use site that makes money from advertising. We have a modified experience for viewers using ad blockers

Wikia is not accessible if you've made further modifications. Remove the custom ad blocker rule(s) and the page will load as expected.