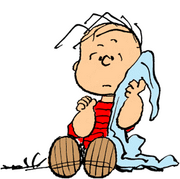 Linus van Pelt is a major character in the Peanuts comic strip franchise. He is the brother of Lucy and Rerun, and often considered one of the smarter and more philosophical of the Peanuts Gang. Conversely, though, he also has a number of childish habits, including his dependence on his security blanket and belief in the Great Pumpkin.
In Fiction Wrestling, Linus is currently signed to WWE: Animated and X-Treme Crossover Federation (XCF).
Background
Edit
Series: Peanuts
Species: Human
Age:
Height:
Weight:
Companies: (Currently) WWE: Animated, XCF
Debut: 1998
Status: Active
Billed from: Birchwood, Minnesota
Allies:
Rivals: Ash Ketchum, Charlie Brown
Twitter: @PumpkinProphet
Wrestling Career
Edit
WWF/E: AnimatedEdit
X-Treme Crossover FederationEdit
Personality
Edit
Personal life
Edit
In Wrestling
Edit
Finishing Moves
Edit
L-Swing (Running Corkscrew Neckbreaker)
Security Choke (Half Nelson Choke with Bodyscissors)
Signature Moves
Edit
Nicknames
Edit
The Prophet of the Great Pumpkin
Entrance Themes
Edit
"Nobody Likes Me" by Deuce
Championships and Accomplishments
Edit
WWF/E: AnimatedEdit
X-Treme Crossover FederationEdit
Ad blocker interference detected!
Wikia is a free-to-use site that makes money from advertising. We have a modified experience for viewers using ad blockers

Wikia is not accessible if you've made further modifications. Remove the custom ad blocker rule(s) and the page will load as expected.