Lucy van Pelt is a main character from the Peanuts franchise. She is Linus and Rerun's older sister, and is a generally crabby and bad-tempered character, particularly towards Charlie Brown, who is constantly the victim of the famous football gag, among others. Despite this, she is one of Charlie Brown's closest friends. She also has an unrequited crush on Schroeder.
In Fiction Wrestling, Lucy currently competes in WWE: Animated, Character Championship Wrestling (CCW) and Ultimate Wrestling Entertainment (UWE).
Background
Edit
Series: Peanuts
Species: Human
Age: (Biologically) 8 (Chronologically) 62
Height:
Weight:
Companies: (Currently) WWE: Animated, CCW, UWE
Debut: 1998
Status: Active
Billed from: Birchwood, Minnesota
Allies: Linus van Pelt (brother), Rerun van Pelt (brother), The Peanuts Gang, The END (Zoe Payne and Bella Swan), Haruhi Suzumiya, the Hierarchy (Oerba Yun Fang, Summer Smith, Larxene)
Rivals: Toph Bei Fong, Misty, Emmy, Aelita Schaeffer, Reggie Rocket, Annie Frazier, Asui Hikaru, Babs Bunny, Strausss Sisters
Twitter: @No1Fussbudget
Wrestling career
Edit
WWF/E: AnimatedEdit
Ultimate Wrestling EntertainmentEdit
Character Championship Wrestling Edit
Personality
Edit
Personal Life
Edit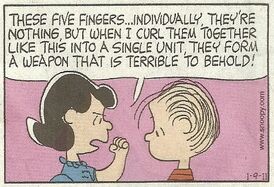 In Wrestling
Edit
Lucy is regarded as one of the best pure brawlers around in the business, capable of trading fists with the best of them.
Finishers
Edit
Birchwood Bull Hammer (High-Impact Elbow Smash) – adopted from Wade Barrett
Boss's Stretch (Modified Inverted Surfboard into a Double Wrist Lock)
Nickel Drop (Fireman's Carry Double Knee Gutbuster)
Tigress Driver '52 (Tiger Driver '91; used only on special occassions) – pariodied from Mitsuharu Misawa
Signatures
Edit
Boxing Combination (Left Hook, Right Hook, Haymaker, European Uppercut)
Gutwrench Suplex
Stump Piledriver
Diving European Uppercut
Boss Smash (Running Punch to the face of a cornered opponent)
Nicknames
Edit
"Little Miss Fussbudget"
"No.1 Miss Fussbudget"
Entrance Themes
Edit
"Linus & Lucy" by Vince Guaraldi (WWF/E; 1998 - 2000; 2008 - 2009)
"Lucy's the Boss" by Lucy van Pelt (WWE; 2009 - present)
"Been To Hell" by Hollywood Undead (CCW)
Championships & Accomplishments
Edit
WWF/E: AnimatedEdit
WWE Toon Women's Championship (4 times)
WWE Toon Hardcore Championship (1 time)
Wrestling Observer NewsletterEdit
FanFiction Wrestling AwardsEdit
Female Match of the Year (2014) - with Zoe Payne and Bella Swan vs. Emmy, Annie Frazier and Reggie Rocket in a Demon's Dungeon Match at CCW Pandemonium
Female Match of the Year (2015) – vs. Gwen Tennyson vs. Jenny Wakeman vs. Xena vs. Aelita Schaeffer vs. Julie Makimoto vs. Blossom vs. Reggie Rocket in a Cell on Earth Match at CCW Regal Rumble
Ad blocker interference detected!
Wikia is a free-to-use site that makes money from advertising. We have a modified experience for viewers using ad blockers

Wikia is not accessible if you've made further modifications. Remove the custom ad blocker rule(s) and the page will load as expected.