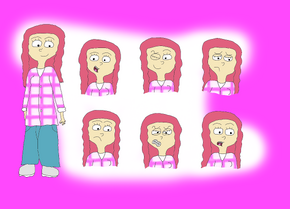 Artwork copyrighted by DanDJohnMLover.
Amanda "Mandy" Wells is a female wrestler in Peach Creek Ultimate Wrestling (PCUW).
Background
Edit
Series: N/A
Species: Human
Age: 18
Height: 5'5"
Weight: 140 lbs.
Companies: (Currently) PCUW
Debut: 2012
Status: Active
Billed From: Cherry Falls
Allies: Van Culmer, Corey Dominic, Ivory Gerdelman, Ed, Edd, Eddy, Liam Takashi, Raven Wells (cousin), Jonny 2x4 (boyfriend), Sarah Watkins, Jesse Alvarez, most of the PCUW faces
Rivals: Wolf Lancaster, Nazz, The Flawless Girls, Rookie Revolution
Twitter: @CowgirlMandy
Wrestling Career
Edit
Peach Creek Ultimate WrestlingEdit
Personality
Edit
Mandy most of the time is sweet and caring towards others. However if anyone, especially her cousin Raven, get into trouble, she won't seem as sweet.
Personal Life
Edit
Mandy's cousin Raven wrestles alongside her in PCUW as the tag team of Rock n' Roll Country. She is also the girlfriend of fellow PCUW superstar, Jonny 2x4.
In Wrestling
Edit
Mandy's a lot like her cousin, although Mandy has a move style inspired by Mickie James
Finishers
Edit
Down and Out (Spinning DDT)
Signatures
Edit
Cobra Clutch Bulldog
Double Bulldog (uses this when teaming with Raven)
Float-Over DDT
Nicknames
Edit
"Pink-haired Cowgirl" (by fans)
Entrance Themes
Edit
"Hardcore Country" by Mickie James and Serg Salinas
"Rock n' Roll Country!" followed by "Take a Fall" by Dale Oliver and Serg Salinas (used while teaming up with Raven)
Championships and Accomplishments
Edit
Peach Creek Ultimate Wrestling Edit
PCUW Television Champion (1 time) - First Knockout in PCUW history to win a male title
PCUW Women's Tag Team Champion (1 time) - with Raven Wells
Mandy is the only Knockout in PCUW so far to win a male title.
It has been said by the fans that out of all DanDJohnMLover's female OCs, Mandy has been considered the cutest.
Ad blocker interference detected!
Wikia is a free-to-use site that makes money from advertising. We have a modified experience for viewers using ad blockers

Wikia is not accessible if you've made further modifications. Remove the custom ad blocker rule(s) and the page will load as expected.