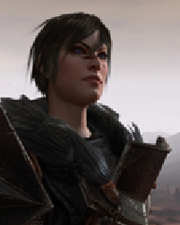 Marian Hawke is the player-controlled protagonist (female version) of the video game Dragon Age II. In the game, she is fully voiced and has a fully customizable appearance (This Hawke is the default version). Hawke is considered the Champion of Kirkwall and is always ready for a challenging battle. She is strong at heart and fight for what she thinks is right.
In Fiction Wrestling, Marian along with her brothers and sister are signed to Impact Wrestling's Animated Division, TNA: Animation Action.
Background
Edit
Series: Dragon Age
Species: Human
Age: 30
Height:
Weight:
Companies: TNA: Animation Action
Debut: 2011
Status: Active
Billed from: Hightown, Kirkwall (originally from Lothering, Ferelden)
Allies: Garrett Hawke (brother), Bethany Hawke (sister), Anders (husband), Merrill, Zevran Arainai, Isabela (sort of), Jaden Yuki, Syrus Truesdale, Cynthia, Kitty Katswell
Rivals: Carver Hawke (brother), Fenris, Giovanni, Morrigan, Minerva Mink, Sabrina
Twitter: @FlyingHawkeMarian
Wrestling Career
Edit
TNA: Animation ActionEdit
Marian and her siblings debuted in Animation Action on March 2011. Even before their game was around, their father Malcolm Hawke was wrestling in there since 2007 when Animation Action came into existance. But in 2010, Malcolm was fired from the company after a Loser Leaves Town Match and shortly after was killed. When the Hawkes debuted, they decided that they would keep their father's legacy alive. Marian was Animation Knockouts Champion once in 2013 from January to May before losing it to Sabrina. She was also the Animation Knockouts Tag Team Champions with her sister Bethany before the titles were retired. When Marian isn't wrestling, she manages her husband, Anders.
Personality
Edit
Like her older brother, Marian can be understanding and polite, but she can also be sarcastic when she wants to be. Unlike Garrett however, she doesn't get angry as easily.
Personal Life
Edit
Marian is the second oldest of four siblings (three in the game). She is also in a relationship with Anders from Dragon Age: Origins-Awakening as well as Dragon Age II. At the recent Slammiversary XII PPV when the show went off the air, Anders proposed to Marian asking her to marry him.
A few months after Animation Action was put on hold after Slammiversary, Marian and Anders got married.
In Wrestling
Edit
Marian is an all-rounder. She likes trying different things in the ring. Also because of her respect for her older brother, she has his finishers in her moveset.
Finishers
Edit
Champion's Call (Northern Lights Brainbuster)
Hawke Flying (Single Rotation Splash) - family finisher
Hawke's War Cry (Spike DDT)
Spirit Moonsault (Moonsault) - adopted from Anders
Signatures
Edit
Crossface
Inverted Suplex
Sunset Flip Powerbomb
Superplex
Nicknames
Edit
"The Female Champion of Kirkwall"
Entrance Themes
Edit
"Sweet Sacrifice" by Evanescence
"Bitter End" by The Veer Union (used when managing Anders)
Championships and Accomplishments
Edit
TNA: Animation ActionEdit
Animation Knockouts Championship (2 times)
Animation Knockouts Tag Team Championship (1 time) - with Bethany Hawke
Ad blocker interference detected!
Wikia is a free-to-use site that makes money from advertising. We have a modified experience for viewers using ad blockers

Wikia is not accessible if you've made further modifications. Remove the custom ad blocker rule(s) and the page will load as expected.