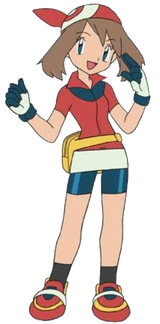 May is a main character in the Pokémon anime, specifically the seasons set in the Hoenn region and Battle Frontier. She is one of Ash Ketchum's former traveling partners, who differed from other partners up to that point since she was a Pokémon Coordinator, rather than a Trainer. While a generally sweet and optimistic girl, she often had arguments with her little brother Max (also a travelling companion, though too young to have a Pokémon of his own), and has an unexplained fondness for food.
In the Fiction Wrestling Multiverse (FWM), May is a professional wrestler currently signed to Character Championship Wrestling (CCW) and WWE: Animated, usually in a tag team with fellow Coordinator, Dawn.
Background
Edit
Series: Pokémon (anime)
Species: Human
Age: 10 in canon (23 in FWM)
Height: 5'2"
Weight: 110 lbs.
Companies: (Currently) WWE: Animated, CCW
Debut:
Status: Active
Billed from: Petalburg City, Hoenn Region
Allies: Dan Kuso (boyfriend), Max (brother), Dawn, Ash Ketchum, Misty
Rivals: The Outer Senshi, Prettier Muscle (Jillian Michaels & Ronda Rousey), Kari Kamiya (friendly)
Twitter: @TopCoordinator
Wrestling Career
Edit
World Wrestling Entertainment: Animated Edit
Character Championship Wrestling Edit
Personality
Edit
Personal Life
Edit
In Wrestling
Edit
Finishing moves
Edit
Flying Rayquaza (Tilt-a-whirl Headscissors Armbar)
Mayflower Compact (Snapmare Neckbreaker)
Signature moves
Edit
Butterfree Trio (Triple Rolling Butterfly Suplex combination)
Hoenn Hangover (Flipping Missile Dropkick)
Managers
Edit
Nicknames
Edit
Entrance themes
Edit
"Right Now" by Tyler Van Den Berg (CCW)
"We Run the Night" by Havana Brown feat. Pitbull (CCW; used while teaming with Dawn)
Championships and Accomplishments
Edit
Fiction Wrestling Awards Edit
Ad blocker interference detected!
Wikia is a free-to-use site that makes money from advertising. We have a modified experience for viewers using ad blockers

Wikia is not accessible if you've made further modifications. Remove the custom ad blocker rule(s) and the page will load as expected.