Miguel Santos is one of the titular characters of the PBS Kids animated program Maya & Miguel. He is a Latino pre-teen who, unlike his twin sister Maya, is very logical, although is often dragged into his sister's schemes reluctantly, although sometimes wants to help her. He enjoys soccer, drawing and hanging out with his friends.
In Fiction Wrestling, Miguel currently competes in WWE: Animated. He is known for being the first PBS Kids character to have become a World Champion.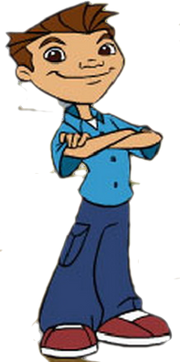 Background
Edit
Series: Maya & Miguel
Species: Human
Age:
Height:
Weight:
Companies: (Currently) WWE: Animated
Debut:
Status: Active
Billed from:
Allies: Maya Santos (sister), Emmy
Rivals: Henry Wong
Twitter: @Miguelito
Wrestling career
Edit
Personality
Edit
Personal Life
Edit
In Wrestling
Edit
Finishers
Edit
Signatures
Edit
Pelé Kick (Backflip kick)
Nicknames
Edit
Entrance Themes
Edit
"Who the F*** is That?" by Dolla feat. T-Pain and Tay Dizm
Championships & Accomplishments
Edit
Ad blocker interference detected!
Wikia is a free-to-use site that makes money from advertising. We have a modified experience for viewers using ad blockers

Wikia is not accessible if you've made further modifications. Remove the custom ad blocker rule(s) and the page will load as expected.