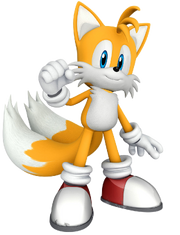 Miles "Tails" Prower is a main protagonist in Sega's Sonic the Hedgehog series. An 8-year-old fox with two tails (hence his nickname), he is Sonic's best friend and sidekick, though he is a capabe hero even away from Sonic. He can use his two tails to move at supersonic speeds and fly like a helicopter. He is also an expert mechanic, capable of rivalling Dr. Eggman.
In Fiction Wrestling, Tails currently works for UCA, UWE and XCF, and has also worked in numerous other companies. He is best known as a member of the Sonic Heroes stable, though in UWE, he has broken away from Sonic.
Background
Edit
Series - Sonic the Hedgehog
Species - Mobian Fox
Age - 8
Height -
Weight -
Companies - (Currently) UCA, UWE, XCF (Formerly) WWE: Animated,
Debut -
Status - Active
Billed from - Westside Island
Allies - Sonic the Hedgehog, Sonic Heroes, Coco Bandicoot
Rivals - Mario, Mushroom Kingdom, Cole MacGrath, Team 2D, the Elrics, the Wolfpack
Twitter - @TwinTailedFox (UCA) @IngeniusMasterTech (UWE)
Wrestling Career
Edit
WWF/E: AnimatedEdit
Personality
Edit
Personal Life
Edit
In Wrestling
Edit
Tails generally uses a high-flying wrestling style, though he can also use technical wrestling skills when needed.
Finishers
Edit
Circuit Breaker (Double Knee Facebreaker)
Fox Splash (Frog Splash)
X Tornado (Corkscrew Shooting Star Press) - VGAAWF
Spiral Tap (Corkscrew Senton Bomb) – adopted from A.J. Styles
Tails Cyclone (Corkscrew Neckbreaker)
Twin Tailed Assault (Exploder Suplex lifted and dropped into a modified Scoop Powerslam)
Twin Tailed Takedown (Scissors Kick)
Signatures
Edit
Flying Chuck (Springboard Roundhouse Kick) – UCA; adopted by John Morrison
Tornado Attack (Spinning Missile Dropkick) – CWA
Thunder Shoot (Diving Corkscrew Senton) – CWA
Nicknames
Edit
Entrance Themes
Edit
"Meant to Live" by Switchfoot (UCA)
"Sonic Heroes" by Crush 40 (as part of the Sonic Heroes)
"Sell Your Soul" by Hollywood Undead (UWE)
"Just Close Your Eyes" by Story Of The Year (UWE)
"Get Ready To Fly" by GRITS (CWA)(VGAAWF)
The Sonic the Hedgehog Theme (WWF, 1989-1990)
Green Hill Zone Theme (WWF, 1990-1996)
Championships and Accomplishments
Edit
WWF Toon Tag Team Championships (2 times with Sonic)
2013 Brass Ring Ladder Match Winner
CWA Aerial Assualt Championship (2-time)
CWA Global Championship (2-time)