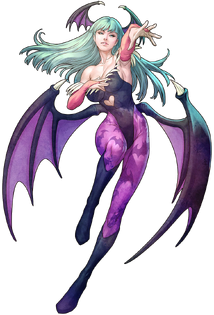 Morrigan Aensland is the main protagonist of Capcom's Darkstalkers series. She's a succubus born in 1678 in a region of Scotland. She is very vain and lives for little more than the excitement of battle. While Demitri officially fills the role, it has often been suggested and implied that Morrigan is the main character of the series, due to her importance in the overall story as well as her many appearances outside of her game series. She may even be considered an antihero protagonist, because despite her demonic appearance and heritage, she is not actually evil.
In the Fiction Wrestling Multiverse (FWM), Morrigan is a professional wrestler currently signed to Ultimate Wrestling Entertainment (UWE) and Women's Wrestling League (WWL).
Background
Edit
Series: Darkstalkers
Species: Succubus
Age: Unknown
Height: 5'8"
Weight: 128 lbs.
Companies: (Currently) UWE, WWL (Formerly) XCF
Debut: 1994
Status: Active
Billed from: Scotland
Allies: Lilith Aensland ("sister"), most Capcom characters
Rivals:
Twitter: @SuccubusQueen
Professional Wrestling Career
Edit
Ultimate Wrestling Entertainment Edit
X-Treme Crossover Federation Edit
Women's Wrestling League Edit
Personality
Edit
Beautiful, sexy, confident, conceited, and playful, Morrigan may be called many things given that she is a succubus, but she is not necessarily evil despite her heritage as a demon of the Makai realm. Instead she is friendly and approachable, perhaps in part due to her frequent visits to the material world to pursue her hedonistic tendencies. Morrigan is always out to satisfy her hunger and will often shirk her responsibilities as the current head of the Aensland estate to find something more engaging.
Personal Life
Edit
In Wrestling
Edit
Finishing moves
Edit
Soul Eraser (Inverted Brainbuster)
Signature moves
Edit
Managers
Edit
Nicknames
Edit
Entrance themes
Edit
Championships and Accomplishments
Edit
UWE Queen's Championship (2 times)
Women's Wrestling League Edit
X-Treme Crossover Federation Edit
XCF Queen of Chaos Championship (1 time)
Morrigan is considered the longest-reigning XCF Queen of Chaos Champion.
Ad blocker interference detected!
Wikia is a free-to-use site that makes money from advertising. We have a modified experience for viewers using ad blockers

Wikia is not accessible if you've made further modifications. Remove the custom ad blocker rule(s) and the page will load as expected.