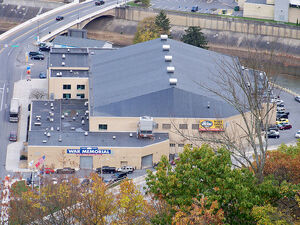 The
NCW Arena
, known out of the FWM universe as the Cambria County War Memorial Arena is a indoor arena located in Johnstown, PA.
In the FWM the NCW Arena serves as the home arena for the promotion Northern Carnage Wrestling and has hosted NCWs No Way Out '13 and Destined Glory '13. It also holds host to nearly half of the tapings of NCW Prime.
NCW began taping there in 2012 as part of the NWA. At first just part of the background and a venue NCW commonly enjoyed. The arena soon was host to some colorful characters such as black shirt guy, a fan that got involved with a few brawls in the concourse of the arena. Thus NCW has called Johnstown, PA it's HQ and the Cambria County War Memorial Arena became dubbed The NCW Arena. It then hosted it's first  Pay-Per-View in January and housed NCW's only Triple Cage match which had been a unused stipulation since WCW's two (three including it's use in the movies "Ready to Rumble") uses of the same stipulation. The arena during the summer of 2013 also was the site of the infamous NCW Riot which was a fight between NCW wrestlers and RR members in and out of the arena when the House's attempted to overtake NCW. That night also saw the fans riot against the same family when the Houses demanded to see if the crowd could shut them up, The crowd shockingly replied and tossed over 100 steel chairs and scraps into the ring at the Houses, injuring Chris House who was covered in steel chairs and a fan even attempted to choke out Jack House.
During 2014, the Arena saw little action due to NCW's Summer Drought after most of the equipment NCW used was destroyed in a truck accident and later blacked out halfway through the NCW PPV, Malice. There were issues between NCW and the City of Johnstown has in the damage the arena has taken during shows and DXP is due to pay. The NCW Arena is actually rented from the owners who run the arena as the Cambria County War Memorial Arena. Talks of purchasing one of the abandon Steel Mill Buildings north of town as the new NCW Arena have been in the works, but as of yet NCW still will work in the current arena.
Other Information
Edit
Attendence:
Edit
Record Attendance: 4,233
Lowest Attendance: 991
Title changes:
Edit
NCW World Heavyweight Championship (1 time)
NCW X-Pro/Hypersonic Championship (1 time)
NCW Television Championship (1 time)
NCW Combat Championship (2 times)
NCW Woman's Championship (1 time)
Destined Glory (2013)
No Way Out (2013)
At the Corner of Napoleon And Market (2014)
NCW Two Year Anniversary Show (2015)
NCW Three Year Anniversay Show (2016)
NCW Rejuvenation (2017)
NWA-NCW Night of Champions (2012)
NCW Prime (11 shows)
NCW Voltage (2 shows)
NCW Electric (3 Shows)
live events (29 shows)
Total Events: 52 Shows