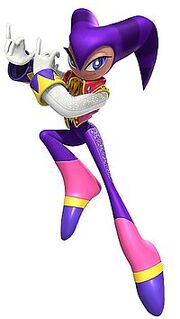 NiGHTS is a First-level Nightmaren and the primary protagonist of the NiGHTS video game series. NiGHTS is a playful, kind, and free spirited creature who dwells in the Night Dimension. Although created by the evil Wizeman, (s)he didn't agree with Wizeman's plans to take over Nightopia and rebelled. Thanks to an Ideya shard imbedded in his/her chest NiGHTS can dualize with a Visitor, a trick that allows him/her to escape the Ideya Palaces used to confine him/her.
Currently, NiGHTS is wrestling in X-Treme Crossover Federation (XCF) as part of the Males Division, making people believe he is actually a male.
Background
Edit
Series: NiGHTS Series 
Species: Nightmaren
Age: Unknown
Height:
Weight:
Companies: (Currently) XCF, GPW
Debut: May 1997
Status: Active
Billed from: Nightopia
Allies: Beat
Rivals:
Twitter: @NightopianGuardian
Wrestling Career
Edit
X-Treme Crossover FederationEdit
Global Pride Wrestling Edit
Personality
Edit
In Wrestling
Edit
Finishers
Edit
Signatures
Edit
Nicknames
Edit
Entrance Themes
Edit
"Message from Nightopia...." from NiGHTS into Dreams.....
Championships and Accomplishments
Edit
Ad blocker interference detected!
Wikia is a free-to-use site that makes money from advertising. We have a modified experience for viewers using ad blockers

Wikia is not accessible if you've made further modifications. Remove the custom ad blocker rule(s) and the page will load as expected.