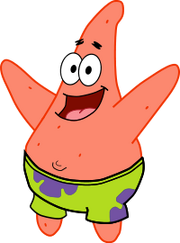 Patrick Star is a major supporting character from the Nicktoon series Spongebob Squarepants. He is one of SpongeBob's neighbors and best friends, who lives under a rock in Bikini Bottom next to Squidward's house. He is known for being rather lazy and often dimwitted.
In Fiction Wrestling, he works in World Wrestling Television (WWT), Championship Extreme Wrestling (CEW) and Cartoon Wrestling Federation (CWF).
Background
Edit
Series - Spongebob Squarepants
Species - Starfish
Age - 
Height -
Weight -
Companies - (Currently) WWT, CWF, CWE (Formerly) UCA, CXWE,
Debut -
Status - Active
Billed From - Bikini Bottom, Pacific Ocean
Allies -  Spongebob Squarepants
Twitter - 
Wrestling Career
Edit
Personality
Edit
Personal Life
Edit
In Wrestling
Edit
Patrick tends to wrestle a brawling, power-based wrestling style.
Finishers
Edit
Pat Gore (Striking Spear)
Starfish Punch (Knockout Punch) - CEW
Supernova (Jacknife Powerbomb)
Signatures
Edit
Nicknames
Edit
Entrance Themes
Edit
"Out Of My Way" by Seether - WWT
"Revolution" by Judas Priest - WWT
"Spongebob Squarepants Theme" - CWF
Championships and Accomplishments
Edit
CWF Tag Team Championship (1 time) - with SpongeBob Squarepants
CWF Hardcore Championship (1 time)
- He's the Creator of the infamously memetic story called The Ugly Barnacle.
Ad blocker interference detected!
Wikia is a free-to-use site that makes money from advertising. We have a modified experience for viewers using ad blockers

Wikia is not accessible if you've made further modifications. Remove the custom ad blocker rule(s) and the page will load as expected.