Ragna the Bloodedge
is a wanted criminal with an extraordinarily large bounty on his head (well in the trillions) for attempting to destroy the Novus Orbis Librarium. His actions have given him a high bounty on h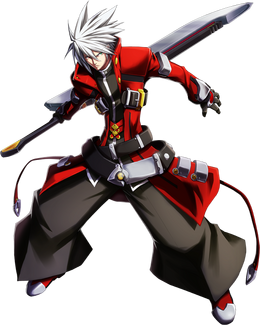 is head and also gave him the nickname of "The Grim Reaper." He is a playable character and the main protagonist of the
BlazBlue
video game Series.
In Fiction Wrestling, Ragna is currently in XCF and is in the Developmental for UWE.
Background
Edit
Series: BlazBlue
Species: Human (formerly)
Age: Unknown
Height: 6' 0.8"
Weight: 172 lbs
Companies: (Currently) XCF, UWE (Developmental)
Debut: 2000
Status: Active
Billed from: Parts Unknown
Allies: Taokaka (Girlfriend), Hernan Ortiz, Noel Vermillion, Emerl, John Marston, Iron Tager, Carl Clover, Makoto Nanaya
Rivals: Hazama (Arch-Rival), Jin Kisaragi, Rachel Alucard, Hakumen, Gill, Knuckles the Echidna (Friendly), Dante, Vergil, Ganondorf
Twitter: @TheBlackBeast (UWE)
Wrestling Career
Edit
Personality
Edit
Personal Life
Edit
In Wrestling
Edit
Finishers
Edit
Signatures
Edit
Nicknames
Edit
Entrance Themes
Edit
Championships and Accomplishments
Edit
Ad blocker interference detected!
Wikia is a free-to-use site that makes money from advertising. We have a modified experience for viewers using ad blockers

Wikia is not accessible if you've made further modifications. Remove the custom ad blocker rule(s) and the page will load as expected.