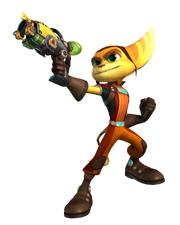 Ratchet is one of the main characters of the Ratchet & Clank video game series. Ratchet is a Lombax native to the planet Fastoon, who was sent to the planet Veldin by his father when a being called Emperor Tachyon attacked. When he grew older, he dreamed of travelling the universe in a home-made spaceship until one day he came across the robot Clank, who would become his partner. Since then, Ratchet and Clank have embarked on numerous adventures together, travelling and often saving the universe.
In Fiction Wrestling, Ratchet is currently signed to Universal Character Association (UCA). He is a member of the Sony Saints stable, along with fellow Playstation icons Sly Cooper and Jak from Jak & Daxter.
Background
Edit
Series: Ratchet & Clank
Species: Lombax
Age:
Height:
Weight: 205 lbs.
Companies: (Currently) UCA
Debut:
Status: Active
Billed from: Veldin
Allies: Sony Saints (Sly Cooper & Jak)
Rivals:
Twitter: @VeldinLombax
Wrestling career
Edit
Universal Character AssociationEdit
Personality
Edit
Personal Life
Edit
In wrestling
Edit
Ratchet is high-flying expert, but he also uses some techinical wrestling skills, making him a double threat to the Crusierweight division.
Finishers
Edit
Turbo Velocity (Tigerbomb)
Signatures
Edit
Diving blockbuster
Ratchet-Plex (Bridging leg hook belly-to-back suplex)
Sitout jawbreaker
Nicknames
Edit
Entrance themes
Edit
"Digtial (Did You Tell?)" by Stone Sour
"One-X" by Three Days Grace (as part of the Sony Saints)
Championships and Accomplishments
Edit
Universal Character AssociationEdit
Ad blocker interference detected!
Wikia is a free-to-use site that makes money from advertising. We have a modified experience for viewers using ad blockers

Wikia is not accessible if you've made further modifications. Remove the custom ad blocker rule(s) and the page will load as expected.