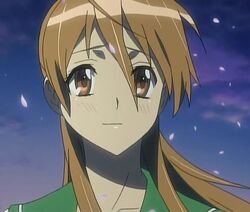 Rei Miyamoto is one of the main characters in Highschool of the Dead. She is a classmate and childhood friend of Takashi Komuro, and they've known each other since kindergarten. Rei is a member of the Sōjutsu club, and her combat skills have proven to be a strong asset to the group. She fights with a spear made from a broomstick, but later in the story, she uses a M1A1 Rifle with a bayonet attached.
In the Fiction Wrestling Multiverse (FWM), Miyamoto is currently signed to Awesome Championship Wrestling (ACW) on the RAMPAGE brand, Anime Wrestling Federation (AWF) on the Freedom brand, and Women's Wrestling League (WWL) competing in their developmental territory Women's Developmental League (WDL), all without the involvement of her male Highschool of the Dead teammates.
Background
Edit
Series: Highschool of the Dead
Species: Human
Age: 17
Height: 5'5"
Weight: 115 lbs.
Debut: 2013
Status: Active
Billed from: Tokonosu City, Japan
Allies: Takashi Komuro (boyfriend), Highschool of the Dead, Cole MacGrath, Téa Gardner (teacher), Dante, Emmy, Dragon Kids
Rivals: Trish Warrington, Star-Lina (Paulina and Star), Evil Beauty (Kendra Daniels, Eliza Hart and Allison Wilson)
Twitter: @SōjutsuSpecialist
Professional Wrestling Career
Edit
Awesome Championship Wrestling Edit
Women's Wrestling League Edit
Women's Developmental League Edit
Anime Wrestling Federation Edit
Personality
Edit
Rei is known to be a headstrong and reliable member of the group. She is very caring towards everyone, especially Takashi. Although constantly reprimanding him for his selflessness, she admits that this was one of the reasons she originally fell in love with him. She has held deep affection for Takashi since they were in kindergarten and has always liked him. She gets extremely jealous when Saeko is near Takashi and is shown to compete with Saeko for Takashi's affection.
Personal Life
Edit
Rei is pretty close to all her teammates in H.O.T.D. during The Outbreak then and does have a large amount of affectionate feelings for Takashi.
In Wrestling
Edit
Rei's wrestling style is consisted of technical, high-flyer, and submission specialist, though it is slightly similar to Takashi's.
Finishing moves
Edit
Ame-no-Nuboko / Heavenly Jeweled Spear (Spear, often as a counter to a diving opponent)
Bōjutsu Neckbreaker (Snapmare Neckbreaker)
Brain Dead (Springboard Bulldog)
Killswitch (Double Wrist-lock transitioned into an Inverted Double Underhook Facebuster, sometimes from an elevated position) – adopted from Takashi Komuro
Signature moves
Edit
Arm-trap Swinging Neckbreaker
Arm Triangle Choke
Art of the Spear / Sōjutsu Dive (Suicide Dive transitioned into a Spear)
Backhand Chop
Cross-legged Boston Crab
Crossbody Block, sometimes from the top rope
Deadlock Crossface (Arm-trap Crossface)
Diving Somersault Leg Drop
Falling Inverted DDT
Headscissors Takedown
Half Nelson Bulldog
Moonsault
Multiple kick variations

Baseball Slide
Dead Rush (Running Single Leg Drop)
Drop
Enzuigiri
Roundhouse
Spinning Heel, sometimes from the top rope
Springboard Thrust

Multiple Suplex variations

Belly-to-back
Bōjutsu Suplex (Lifting Swinging Fisherman, sometimes followed by a pin)
Bridging Northern Lights
Bridging / Rolling / Snap German
Dance with the Dead (German followed by a Dragon followed by a Bridging X)
Infecta Trifecta (Triple Rolling German combination) – adopted from Takashi Komuro
Snap
Vertical

Pulse Check (Running Knee Lift followed by a Falling Neckbreaker) – adopted from Takashi Komuro
Springboard Clothesline
Stepover Armlock Camel Clutch
STF
Yari Yumiya (Spear followed by a Bow and Arrow hold)
Managers
Edit
Nicknames
Edit
"The Sōjutsu (Submission) Specialist"
Entrance themes
Edit
"Getting Away with Murder" by Papa Roach (April 19, 2013)
"Never Lost" by Decyfer Down (July 6, 2013 – present)
"Welcome to the Family" by Avenged Sevenfold (April 12, 2013 – present; used while as a member of Highschool of the Dead)
Championships and Accomplishments
Edit
Women's Wrestling League Edit
Women's Developmental League Edit
Ad blocker interference detected!
Wikia is a free-to-use site that makes money from advertising. We have a modified experience for viewers using ad blockers

Wikia is not accessible if you've made further modifications. Remove the custom ad blocker rule(s) and the page will load as expected.