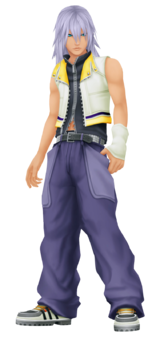 Riku
is one of the main characters of the
Kingdom Hearts
franchise. He lives on the Destiny Islands with his best friends
Sora
and Kairi, and dreamed of leaving his world to explore others. He found his chance when the Destiny Islands were consumed by darkness, however, he was separated from his friends and possessed by the darkness himself in the process. He has since managed to overcome the darkness, and is now able to wield it without being corrupted, and now fights alongside Sora and friends.
In Fiction Wrestling, Riku currently competes in Universal Character Association (UCA).
Background
Edit
Series: Kingdom Hearts
Species: Human
Age:
Height:
Weight:
Companies: (Currently) UCA (Formerly) WWE: Animated
Debut:
Status: Active
Billed from: Destiny Islands
Allies: Sora, Kairi
Rivals: Robin
Twitter: @WayToDawn
Wrestling career
Edit
Personality
Edit
Personal Life
Edit
In Wrestling
Edit
Finishers
Edit
Way To Dawn (Cradle belly-to-back inverted mat slam)
Signatures
Edit
Nicknames
Edit
Entrance Themes
Edit
Championships & Accomplishments
Edit
Ad blocker interference detected!
Wikia is a free-to-use site that makes money from advertising. We have a modified experience for viewers using ad blockers

Wikia is not accessible if you've made further modifications. Remove the custom ad blocker rule(s) and the page will load as expected.