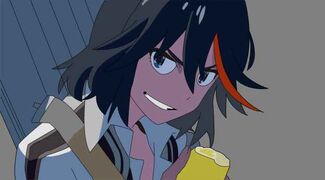 Ryūko Matoi is the main protagonist of the anime/manga series Kill la Kill. She transferred to Honnōji Academy searching for the twin of her red Scissor Blade and the person who used it to murder her father, Isshin Matoi.
In the Fiction Wrestling Multiverse (FWM), Matoi is a professional wrestler currently signed to Anime Wrestling Federation (AWF), Cartoon Anime Society Z (CASZ), Awesome Championship Wrestling (ACW) in its developmental territory, Adrenaline Impact Wrestling (AIW), Northern Carnage Wrestling (NCW), and SPARK Women's Wrestling.
Background
Series: Kill la Kill
Species: Life Fibers-infused Human
Age: 17
Height: 5'7"
Weight: 122 lbs.
Debut: 2013–2014
Status: Active
Billed from: Honnō City, Japan
Allies: Satsuki Kiryūin (sister), Mako Mankanshoku (best friend), Mikasa Ackerman, Rin Okumura, Percy Jackson (crush), Christa Moxley, Ruby Rose
Rivals: Haruhi Suzumiya, Asuna Yuuki, Nui Harime, Ragyo Kiryuin (mother)
Twitter: @GuitarCaseVagabond
Wrestling Career
Cartoon Anime Society Z
Awesome Championship Wrestling
Adrenaline Impact Wrestling (2013–present)
On the July 4, 2013 episode of AIW, Ryūko Matoi debuted in a match against Ellie Langford, who she defeated via submission. On August 1, 2013, Matoi was announced to be part of a tournament to determine the next number one contender against Rukia Kuchiki for her AIW Women's Championship. On August 8, 2013, Matoi defeated Trish in the quarterfinals match.
Anime Wrestling Federation
Japanese Animation Wrestling
Women's Tag Team Champion (2016–present)
Full Throttle Wrestling
Northern Carnage Wrestling
Allegheny Mountain Wrestling (2016)
It was announced on February 20, 2016 that Matoi had signed with NCW and would be start her career by competing in the promotions new developmental territory Allegheny Mountain Wrestling. She spent much of her time battling against Holly Storm for the AMW Female's Championship, though she was unsuccesfully in her efforts.
Main Roster (2017-present)
Ryuko Matoi made her main roster debut on April 15th, 2017 at Rejuvenation by entering the 20 Women Royal Rumble for the NCW World Women's Championship. She spent over ten minutes in the match before being eliminated.
Personality
Personal Life
In Wrestling
Matoi does best as a hard-hitting brawler with a taste of high-flying, her strikes being very stiff and fast-paced maneuvers being hard to keep up with.
Finishing moves
Fiber Lost / Sen'i Sōshitsu (Avalanche bodyscissors backflip into a Back-to-back Kneeling Piledriver)
Kisaragi (Springboard Knee Strike to an opponent's head) – used rarely; last resort
Scissor Blade (Twisting Wrist-lock transitioned into a Short-arm Lariat Takedown)
Signature moves
Back Kick
Dragon Screw
Dragon Sleeper
Dropkick, sometimes from the top rope, to an opponent on the outside or sliding
Electric Chair Drop, sometimes used as a counter
Enzuigiri
Fireman's Carry Backbreaker
Fresh Blood (Fireman's Carry Neckbreaker Slam)
Japanese Arm Drag, sometimes done repeatedly in succession
Lariat
Leg Lariat
Matoi Roll (Modified Victory Roll, as a Powerbomb counter) – adopted from Manami Toyota
Multiple Suplex variations

Bridging or Release Dragon
Bridging Half-hatch
Exploder, sometimes inverted
German, sometimes while bridging
Leg-hook Sitout Slam
Straight Jacket

No-handed Springboard Somersault Plancha
Pumphandle Side Slam
Red Fiber Bomb (Spin-out Sitout Powerbomb)
Seated Fujiwara Armbar
Senjin Shippu / Blade Gale (Diving Somersault Neckbreaker, often floated over into a small package)
Senketsu Rush / Berserker Mode (Multiple high-speed slaps followed by a Spinning Chop followed by a Roundhouse Kick to the side of the head and finished with the Scissor Blade)
Senketsu Senjin / Blade Flash (Over-the-shoulder Back-to-Belly Piledriver onto the knee)
Senketsu Shippu / Senketsu Gale (Springboard Somersault Meteora)
Sling Blade
Springboard Leg Drop, sometimes while performing a double jump
Springboard Moonsault
Suicide Dive, sometimes transitioned into an elbow smash
Superkick, sometimes preceded by a Turnbuckle Powerbomb
Nicknames
"(The) Guitar Case Vagabond"
"The Kanto Vagabond"
"The Guitar Case Drifter"
Managers
Entrance themes
"In Between" by Beartooth (AIW; July 4, 2013 – present)
"Before My Body Is Dry" by Mika Kobayashi (AWF)
"Celtic Invasion" by CFO$ (FTW; 2015 – 2017)
"Bleed the Same" by Remains of Jade (AMW; 2016)
"Master of Puppets" by Metallica (NCW; 2017-present)
Championships and Accomplishments
Cartoon Anime Society Z
Allegheny Mountain Wrestling
SPARK Women's Wrestling
Trivia
Ad blocker interference detected!
Wikia is a free-to-use site that makes money from advertising. We have a modified experience for viewers using ad blockers

Wikia is not accessible if you've made further modifications. Remove the custom ad blocker rule(s) and the page will load as expected.