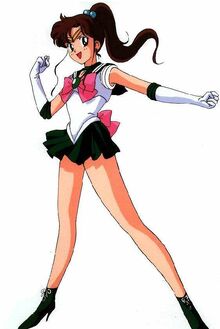 Makoto Kino, better known as Sailor Jupiter, is a fictional character in the Sailor Moon manga and anime series created by Naoko Takeuchi. She is a member of the Sailor Soldiers, female supernatural fighters who protect the Solar System from evil. In Sailor Moon, Makoto, also known as Lita in the English dub, is the third Sailor Soldier to be discovered by Usagi Tsukino (the titular Sailor Moon), and serves as the "muscle" of the group. She possesses powers associated with electricity and plants, as well as superhuman strength.
In Fiction Wrestling, she is currently signed with WCW: Showdown.
Background
Edit
Series: Sailor Moon
Species: Human/Magical Girl
Age:
Height:
Weight:
Companies: (Currently) WCW: Showdown (Formerly) WWE: Animated
Debut: 1991
Status: Active
Billed from:
Allies: Sailor Mars, Sailor Mercury, Sailor Venus, Lola Bunny
Rivals: Sailor Moon
Twitter:
Wrestling career
Edit
Sailor ScoutsEdit
WCW: Showdown Edit
Personality
Edit
Personal Life
Edit
In Wrestling
Edit
Finishing Moves
Edit
Shockwave (Kneeling Cradle Back to Belly Piledriver)
Signature Moves
Edit
Nicknames
Edit
Entrance themes
Edit
"All Around Me" by Flyleaf
Championships and Accomplishments
Edit
Toon Women's Champion (1 time w/The Sailor Scouts under The Seville Rule; reign not recognized by WWE Officials due to change in 2010; reign now recognized as a Sailor Moon reign)
Ad blocker interference detected!
Wikia is a free-to-use site that makes money from advertising. We have a modified experience for viewers using ad blockers

Wikia is not accessible if you've made further modifications. Remove the custom ad blocker rule(s) and the page will load as expected.