Samus Aran
is the main character of the
Metroid
video game series. She is an intergalactic Bounty Hunter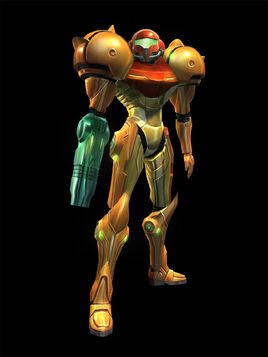 often employed by the Galactic Federation to deal with the threat of the deadly Space Pirates, using a combination of her famed Power Suit and natural abilities - developed through training with her adoptive Chozo race - to complete her missions. Her history is largely unknown, but it is known that her birth planet and adoptive race were decimated by the Pirates and their leader, Ridley.
In Fiction Wrestling, Samus is currently signed to UCA, CASZ and WWL. She is best known as a former VGWA Champion.
Background
Edit
Series: Metroid
Species: Human, with traces of Chozo and Metroid DNA
Age: Unknown
Height: 6'3"
Weight: 198 lbs.
Companies: (Currently) UCA, CASZ, WWL (Formerly) VGWA
Debut:
Status: Active
Billed from: the Planet Zebes
Allies: Ben Tennyson (boyfriend)
Rivals: Agent Tex
Twitter: @MetroidKiller
Wrestling career
Edit
WWF: Animated Edit
Debut, feud with Tex Edit
Personality
Edit
Personal Life
Edit
In Wrestling
Edit
Finishers
Edit
Metroid Slam (Elevated double chickenwing wheelbarrow facebuster) – parodied from Beth Phoenix
Signatures
Edit
Ice Beam (Front missile dropkick) - used as a finisher in CASZ
Nicknames
Edit
Entrance Themes
Edit
"Seduction" by Eminem (CASZ/UCA)
Championships & Accomplishments
Edit
WWF: Animated Edit
Ad blocker interference detected!
Wikia is a free-to-use site that makes money from advertising. We have a modified experience for viewers using ad blockers

Wikia is not accessible if you've made further modifications. Remove the custom ad blocker rule(s) and the page will load as expected.