San
is a fictional character in the film
Princess Mononoke
, appearing as the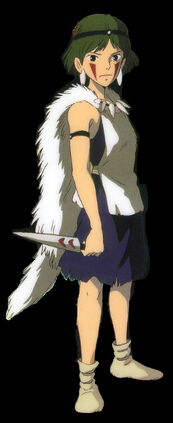 deuteragonist throughout the movie but arguably the titular character of the movie by some. A human who was abandon as a baby, she was raised by wolves in the great forest and therefore rejects her humanity and beliefs herself as a wolf.
In the FWM, San is currently signed to XCW, Steel & Blood and NCW.
Background
Edit
Series: Princess Mononoke
Species: Human
Age: 17
Height: 5'4
Weight: 115 lbs.
Companies: (Currently) NCW, XCW, Steel & Blood
Debut: 1997 (Film) 2015 (Wrestling)
Status: Active
Billed From: The Forest (Irontown)
Allies: Ashitaka , Coco Bandicoot , Holo
Rivals: Sophisticated Beauty ,
Twitter:  @PrincessMononoke
XW (2015) Edit
Main Roster; Feud with Sophisticated Beauty (2015-16) Edit
Pursuit for Women's Championship (2016) Edit
Draft (2015) Edit
Wrestling Style
Edit
FinishersEdit
Dragon sleeper
Mononoke Piledriver (Cradle piledriver or a package piledriver)
Urufu Rokku/Wolf Lock (Pentagram choke)
SignaturesEdit
Lou Thesz Press
Head Scissors Takedown
Hiptoss
Ranhei
Sleeper Hold (w/ legs locked around waist)
AccomplishmentsEdit
Theme Songs:Edit
"Mononoke Hime" by Masaaki Endoh (XW-NCW;2015-present)
"I Don't Speak Human" by Omnia (NCW;2016-present) while teaming with Holo and Nausicaa
Ad blocker interference detected!
Wikia is a free-to-use site that makes money from advertising. We have a modified experience for viewers using ad blockers

Wikia is not accessible if you've made further modifications. Remove the custom ad blocker rule(s) and the page will load as expected.