San Paro Wrestling Alliance
, or SPWA for short, is a newly founded company, controlled by
Alexander Valant VII
of the Valant family. The company, named after the city from where most of its' talent comes from, has made its' debut on February 1st, 2014.
The company was created by the idea of both Alexander Valant VII and Gear Valant. The Valant brothers, in fact, had quickly noticed how the psychos, the mercenaries and the criminals of the multiverse were mostly overlooked, and both decided to hire some and turn them into the superstars of tomorrow.
Alexander, now in charge of the new company, flew to San Paro and started to search for the rest of the personnel. And by the time that September had arrived, the company, now known as SPWA, was now training their future roster.
However, a small problem got into the way. San Paro's two stadiums were heavily damaged and under reconstruction after the events known as the "Criminal Civil War", leaving SPWA homeless. After a while, the company settled on the Maze Bank Arena located in Los Santos, which was leased to them for a full year.
Current Title-holders
Edit
Pay-Per-View Agenda
Edit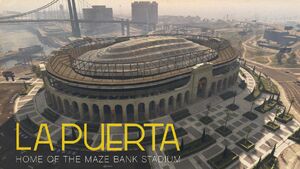 Current Roster
Edit
Male RosterEdit
Female RosterEdit
Tag Teams and StablesEdit
Other On-Air Personnel

Edit
External Link
Edit
https://www.fanfiction.net/s/10223602/1/SPWA-San-Paro-Wrestling-Alliance
Ad blocker interference detected!
Wikia is a free-to-use site that makes money from advertising. We have a modified experience for viewers using ad blockers

Wikia is not accessible if you've made further modifications. Remove the custom ad blocker rule(s) and the page will load as expected.